New movies at Major Cineplex
August 25 - August 31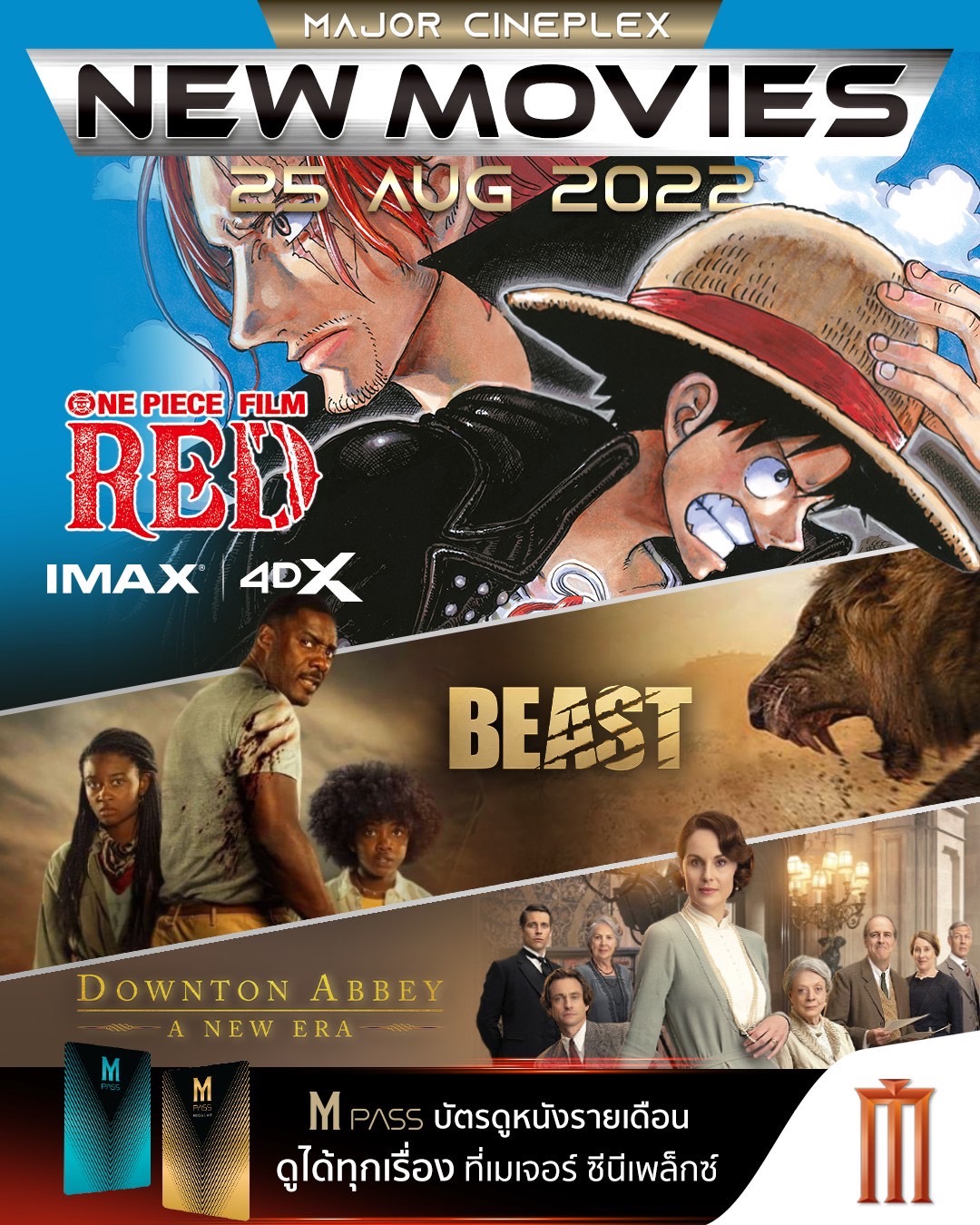 One Piece Film Red : วันพีซ ฟิล์ม เรด
The story takes place on an island where Uta, the world's most popular diva, performs for the first time in public. Uta's voice, with which she sings while hiding her true identity, has been described as "otherworldly". As the Straw Hat crew led by Luffy, other pirates, the Navy, and fans from all over the world who enjoy her voice have arrived, Uta's voice is heard in a new light. The curtain rises on the story with the shocking revelation that she is the "daughter" of Red-Haired Shanks.

เรื่องราวของ "อูตะ" หญิงสาวที่ได้รับการกล่าวขานว่าเป็นเจ้าหญิงแห่งเสียงเพลง ได้ปรากฏตัวต่อสาธารณะและแฟนเพลงของเธอเป็นครั้งแรกเพื่อแสดงสดในงานคอนเสิร์ต ซึ่งลูฟี่กับกลุ่มโจรสลัดหมวกฟางเองก็ได้มาชมเช่นกัน แต่เหตุการณ์ไม่คาดฝันก็เกิดขึ้น ทำให้ความลับของ อูตะ ได้ถูกเปิดเผยว่าแท้จริงแล้วเธอคือลูกสาวของ แชงค์ โจรสลัดผมแดง ทั้งคู่มีเรื่องราวเบื้องหลังในอดีตที่ไม่มีใครเคยล่วงรู้ ก่อนที่เหตุการณ์บางอย่างจะเกิดขึ้นและทำให้พวกเขาต้องแยกจากกัน …
Beast : สัคว์ร้าย 
Sometimes the rustle in the bushes actually is a monster.
Idris Elba (Fast & Furious Presents: Hobbs & Shaw, The Suicide Squad) stars in a pulse-pounding new thriller about a father and his two teenage daughters who find themselves hunted by a massive rogue lion intent on proving that the savannah has but one apex predator.
Elba plays Dr. Nate Daniels, a recently widowed husband who returns to South Africa, where he first met his wife, on a long-planned trip with their daughters to a game reserve managed by Martin Battles (Sharlto Copley, Russian Doll series, Maleficent), an old family friend and wildlife biologist. But what begins as a journey of healing jolts into a fearsome fight for survival when a lion, a survivor of blood-thirsty poachers who now sees all humans as the enemy, begins stalking them.
Iyana Halley (The Hate U Give, This is Us series) plays Daniels' 18-year-old daughter, Meredith, and Leah Sava Jeffries (Rel series, Empire series) plays his 13-year-old, Norah.
From visceral, experiential filmmaker Baltasar Kormákur, the director of Everest and Universal Pictures' 2 Guns and Contraband, Beast is produced by Will Packer, the blockbuster producer of Girls Trip, the Ride Along franchise, and ten movies that have opened No. 1 at the U.S. box office, including Night School, No Good Deed and Think Like a Man, by James Lopez, president of Will Packer Productions, and by Baltasar Kormákur. The film is written by Ryan Engle (Rampage, Non-Stop) from an original story by Jaime Primak Sullivan and is executive produced by Jaime Primak Sullivan and Bernard Bellew.
Downton Abbey A New Era : ดาวน์ตัน แอบบีย์ สู่ยุคใหม่
The Crawley family goes on a grand journey to the South of France to uncover the mystery of the dowager countess's newly inherited villa.
จากซีรีย์ยอดนิยมสู่ภาพยนตร์บนยักษ์ พบกับครอบครัวครอว์ลีย์อันเป็นที่รักของผู้ชมและเหล่าทีมงานของพวกเขาใน Downton Abbey: A New Era ดาวน์ตัน แอบบีย์ : สู่ยุคใหม่ ติดตามการเดินทางเพื่อไขปริศนา