Movie on week
July 18
The Lion King
A young lion prince is cast out of his pride by his cruel uncle, who claims he killed his father. While the uncle rules with an iron paw, the prince grows up beyond the Savannah, living by a philosophy: No worries for the rest of your days. But when his past comes to haunt him, the young prince must decide his fate: Will he remain an outcast or face his demons and become what he needs to be?
Written by femaledragon1234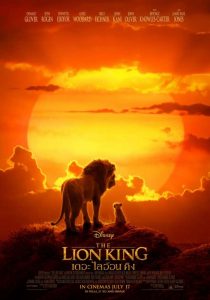 Luang-Ta-Maha-Heng
The Current War
Starring Benedict Cumberbatch as Thomas Edison and Michael Shannon as George Westinghouse, "The Current War" is the epic story of the cutthroat competition between the greatest inventors of the industrial age over whose electrical system would power the new century. Backed by J.P. Morgan, Edison dazzles the world by lighting Manhattan. But Westinghouse, aided by Nikola Tesla, has seen fatal flaws in Edison's direct current design. Igniting a war of currents, Westinghouse and Tesla bet everything on risky and dangerous alternating current. Directed by Alfonso Gomez‐Rejon ("Me and Earl and the Dying Girl") and written by playwright Michael Mitnick ("Sex Lives of our Parents"), "The Current War" also stars Katherine Waterston, Nicholas Hoult, Tom Holland, Matthew Macfadyen, and Tuppence Middleton.
(Credit: www.comingsoon.net)