Yee Peng Lanna Festival 2021 at Gassan Panorama Golf Club
November 19 - November 20
Yee Peng Lanna Festival 2021 (YLF 2021) at Gassan Panorama Golf Club has been successfully authorised by Lamphun Province to fly or ignite airborne objects (including fireworks and sky lanterns). This guarantees the legality of our fun activities in the event.
Welcome & See you soon!!!!
The Lantern Festival is coming and we don't want you to miss it!
2021 has not been really good for most of us. Why not end it with something memorable and mesmerising?
ThaiFestTicket would like to invite you to join our cultural & traditional events for the Loi Krathong Festival on 19th & 20th November 2021.
This year, we will present you with a special event again as below information:
Yee Peng Lanna Festival 2021 (YLF 2021)
Theme: Temple Fun Fair
Features: Traditional Lanna Culture Ethinic performances, Buddhist ceremony, Delicious Foods, Soft drinks,
3 Sky Lanterns per person, 1 Krathong flower per person, DIY craft & Free round transportation (From: Lotus Hotel Pang Suan Kaew).
Date: 19th Nov & 20th Nov 2021
Venue: Gassan Panorama Golf Club, Lamphun
Price: THB 3,999 / Pax (Adult)
Special Child (6 – 10 yrs) Price: THB 1,999 / Pax (***Received all benefits as an adult).
Child Policy: Children under 6 yrs, accompanied by parents are Free of Charges.
****Covid-19 Policy as New Normal Policy (NNP).
For Further Information (or) Reservation:
Ms. Kim (098 295 9962) (Thai, English)
Mr. Jack (086 911 2163) (Japanese, Thai, English)
Mr. James (081 960 5753) (English)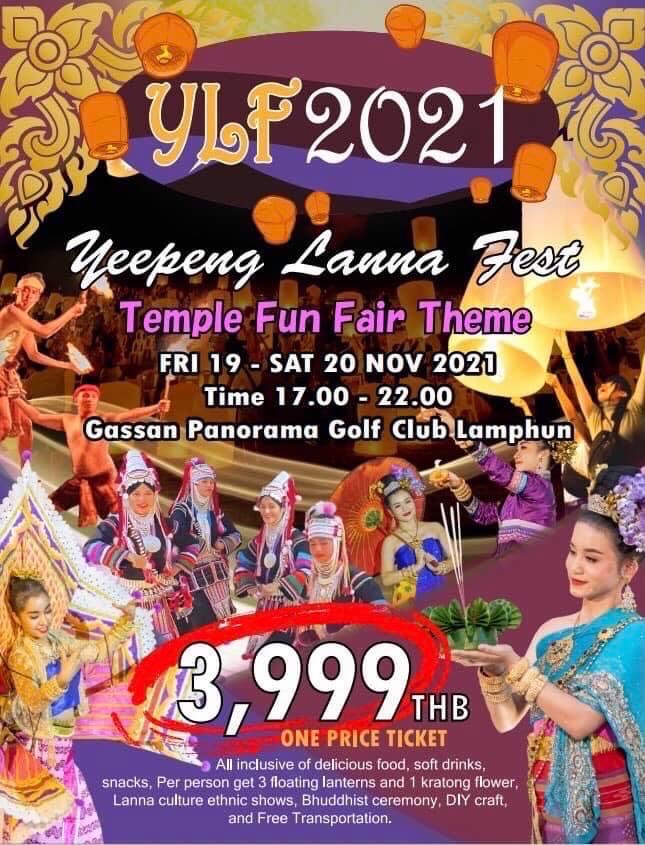 Event Details
Location:
Gassan Panorama Golf Club