Chiang Mai Holi 2021
March 25 - March 26
First time in Thailand, our Chiang Mai community invited all to join and celebrate the festival of colours or festival of spring which in Indian culture is called "HOLI".
We will celebrate at Pavilion NIght Bazaar Chiang Mai (next from Mcdonald Night Bazaar, google map: https://goo.gl/maps/8uwfbTohZxeZzPDA8) on 25 to 26 March 2021 from 4.00 p.m. to 12.00 a.m., schedule of this celebration as follows;
25 March 2021 : Indian foods from many well known Indian Restaurants in Chiang Mai. Indian Bollywood Music and Dance with DJ and Indian Musicians. And also Indian Dresses and Props are available for shopping too.
26 March 2021 : Starting with Hare Krishna Kirtan Parade, Hawan for Maha Dev Kanesha and definitely the highlight of the festival with color splash, play, laugh and dance in Bollywood Style.
Preparation for join with the festival: Wearing Indian style dress.
Flow with the festival in a polite manner.
Varieties of foods, braverage, dresses and etc. are available for shopping.
Definitely COLOURS (food grade quality) are available, you can buy as much as you want.
NO! Entrance fee.
Awards for participants who dress and dance in the festival on 26 March which were selected by our assigned person | 2
Super Deluxe Rooms (each room for 2 persons) for stay overnight included breakfast at Amaravati Wellness Center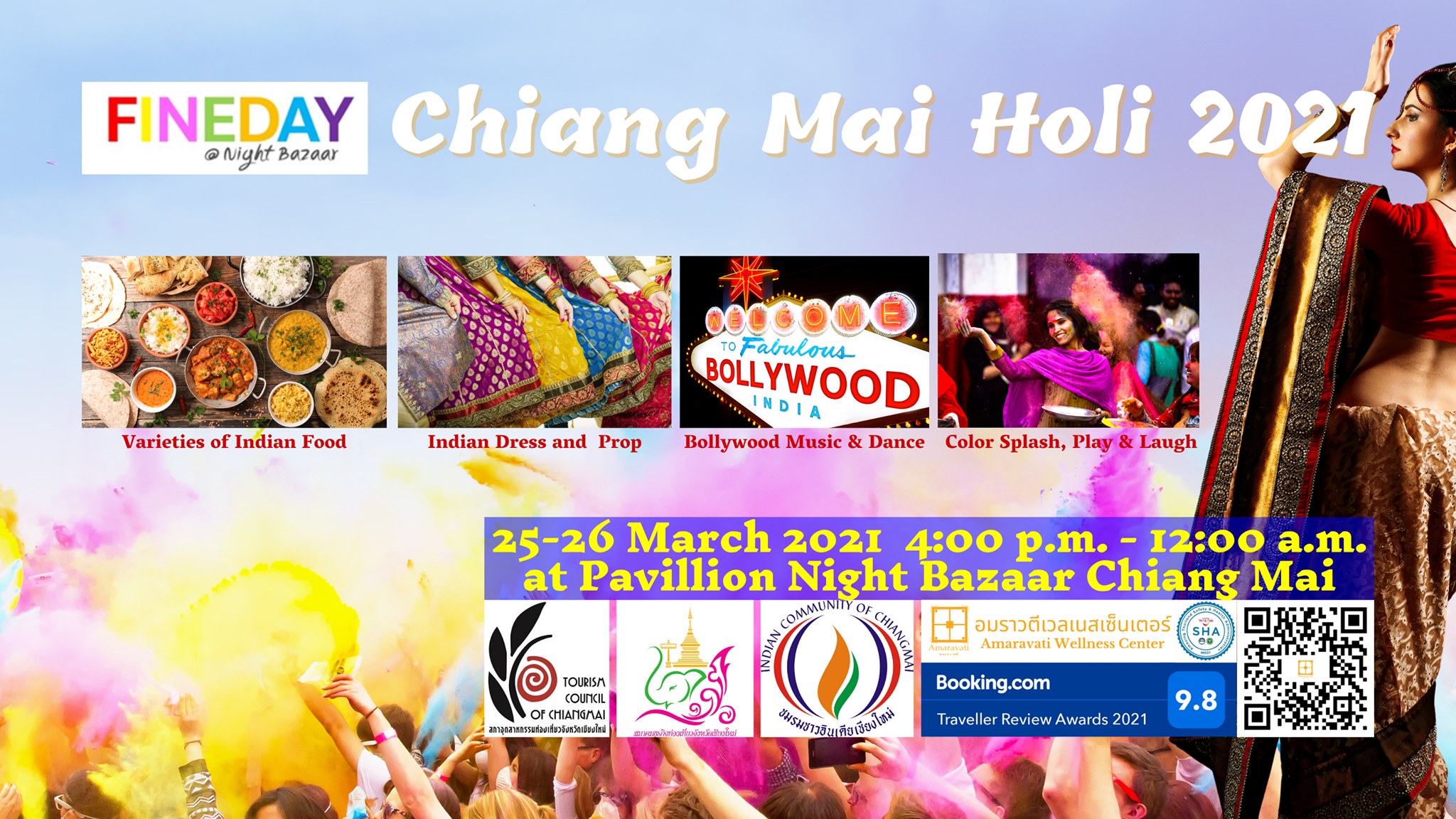 Event Details
Location:
Pavilion Night Bazaar