Ayurvedic Aromatherapy Workshop with Certificate by Sangeeta
June 19 - June 21
Ayurveda, Acupressure Reflexology, Meridian Therapy, Aromatherapy and Magnets Therapy. Using Ayurveda as the underlying principle, essential oils are blended to provide the maximum benefit. Included in this course of study are:
❖ Basics of Ayurveda
❖ Overview on Aromatherapy
❖ Methods of Essential oil extraction and its effect on the purity of the oil
❖ Differentiating between synthetic and natural essential oils
❖ Therapeutic guidelines for essential oils
❖ Oil families
❖ Essential oil monographs based on Ayurveda
❖ Selecting and blending essential oils with carrier oils in order to balance respective biohumors (doshas)
❖ Using essential oils with various Ayurvedic treatments and therapies.
Workshop Schedule : 19th – 21th June 2019
Special Offer Fee : 16,000 Baht included all accommodations (shared room, meals, training, course material, aromatherapy kit, and certificate)
—————————————————-
SANGEETA SIRINTHIPAPORN Profile
—————————————————-
Sangeeta Sirinthipaporn started her career in Natural therapies in 1999 with Acupressure Reflexology. As she provided the treatment sesssions at the Suchada Marwah Center in Bangkok (currently known as the International Research Center of Natural Sciences in Chiangmai), she realized the need for incorporating a balanced lifestyle and appropriate diet to achieve complete health and harmony. Ayurveda filled in this missing link. It was the key that not only opened doors to numerous Ayurvedic treatments, but also gave her a profound understanding of the root cause of various disorders and the route to eliminate them. Until 2004, Sangeeta worked with the Suchada Marwah Center as a practitioner, teacher and Director of Education. When the center moved to Chiangmai, she started her private practice in Bangkok.
Sangeeta passes on the wisdom of natural healing through lectures at universities, workshops and training sessions. Other modalities that complement her therapy sessions are Meridian Therapy, Magnetotherapy, Aromatherapy. However, Ayurvedic Principles form the backbone of her therapies, whereby each client is guided through a series of therapies, a diet plan, exercise program and lifestyle balancing measures to synchronize oneself on all levels, from the physical to the subtle. Currently, she is a visiting consultant for Ayurveda at TRIA Wellness Integrated Center, Piyavate Hospital, Bangkok. Sangeeta is also a member of the Thai Spa Association, TSPA
– Provide complete Consultation to assess the client's needs
– Conduct treatment sessions based on natural therapies
– Provide a thorough treatment plan that includes charting out specific diets, exercise routines as well as hands-on therapies as needed.
– Conduct workshops and group training in Acupressure Reflexology, Ayurveda, Aromatherapy, Meridian Therapy and Magnetotherapy.
– Research on various kinds of natural therapies in order to develop better treatment
LECTURES ON AYURVEDA GIVEN BY SANGEETA SIRINTHIPAPORN AT THE FOLLOWING UNIVERSITIES:
– KHONKAEN UNIVERSITY, KHONKAEN
– RANGSIT UNIVERSITY, BANGKOK
Furthur information about her please look at
http://www.sangeetas.com/p/profile.html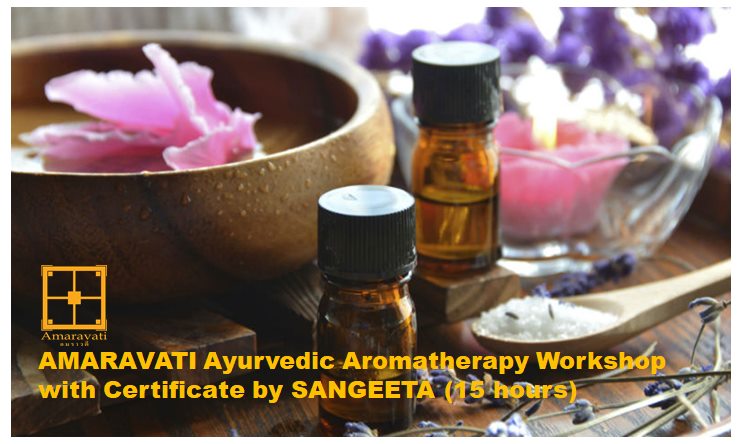 Event Details
Timing:
8.30 am - 4.00 pm
Location:
Amaravati Wellness Center