"Wet Paint Everywhere" Art Exhibition by PPOW Opening Reception at Television gallery
July 2 - September 3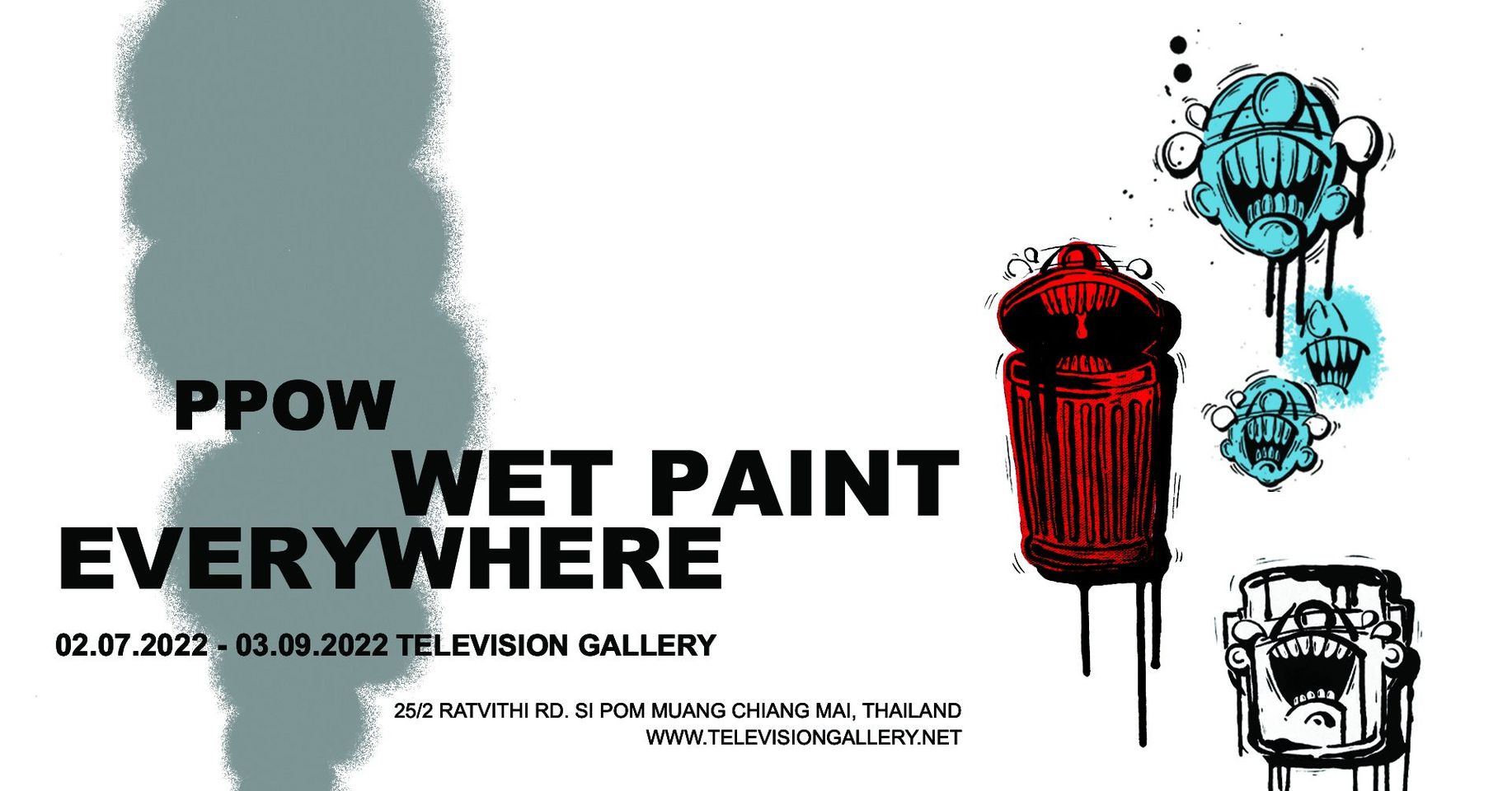 "WET PAINT EVERYWHERE"
The very first solo exhibition by PPOW, the artist that you supposed to hate will be happening on the 02/07/2022 – 03/09/2022 at Television gallery.
Opening reception on July 2
5pm – 10pm
"The mischief hidden in the fury of people's minds. Brings a rebellious expression that does not want to be influenced or dictated by the rules of society. The words "wet paint" or "do not touch" makes me feel more urge to touch it. This feeling is hidden within the human subconscious but some choose to follow orders and some choose not to follow orders.
Every time I see wet paint or a cement floor that hasn't dried, it creates an incentive that makes me want to touch or step on it. The basic society rules tought try to restrain my subconscious every time, but my brain and mind were always ordering me to break the rules.
In this work expresses a bullish emotion, a feeling of satisfaction, a sense of fun and a thrill of doing it!"
"WET PAINT EVERYWHERE"
นิทรรศการแสดงศิลปะโดย PPOW ศิลปินคนทั่วไปจะต้องเกลียด วันที่ 02/07/2022 – 03/09/2022 ที่ Television gallery
เปิดงานวันที่ 02/07/2022
เวลา 5pm-10pm
"ความชั่วร้ายที่ซ่อนอยู่ในความโกรธภายใต้จิตใจของผู้คน นำมาซึ่งการแสดงออกที่ดื้อรั้นที่ไม่ต้องการได้รับอิทธิพลหรือถูกกำหนดโดยกฎของสังคม
คำว่า "wet paint" หรือ "do not touch" ทำให้ผมรู้สึกอยากจะเข้าไปสัมผัสมันมากขึ้นไปอีก ความรู้สึกนี้ซ่อนอยู่ภายในจิตใต้สำนึกของมนุษย์ แต่บางคนเลือกที่จะทำตามคำสั่ง และบางคนเลือกที่จะไม่ปฏิบัติตามคำสั่งด้วยเหตุผลส่วนตัว ทุกครั้งที่ผมเห็นสีเปียกหรือพื้นซีเมนต์ที่ยังไม่แห้ง มันจะสร้างแรงจูงใจที่ทำให้ผมอยากสัมผัสหรือเหยียบมัน กฎเกณฑ์ของสังคมขั้นพื้นฐานที่พยายามควบคุมจิตใต้สำนึกของผมทุกครั้ง แต่สมองและจิตใจของผมสั่งให้ผมแหกกฎอยู่เสมอ
ในงานนี้แสดงออกถึงอารมณ์รั้น, ความรู้สึกพึงพอใจ, ความสนุกสนาน, ความรู้สึกตื่นเต้นที่จะทำมัน" 
Event Details
Location:
Television gallery