Stand-Up Comedy – SORABH PANT (Amazon Prime) – Live Chiang Mai!
November 12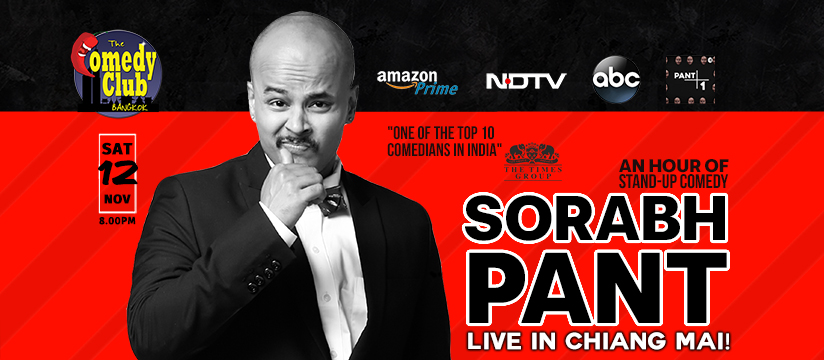 𝗡𝗼𝘃 𝟭𝟮𝘁𝗵, 𝗳𝗿𝗼𝗺 𝗠𝘂𝗺𝗯𝗮𝗶 𝘁𝗼 𝗖𝗵𝗶𝗮𝗻𝗴 𝗠𝗮𝗶, 𝘄𝗲 𝗽𝗿𝗼𝘂𝗱𝗹𝘆 𝗽𝗿𝗲𝘀𝗲𝗻𝘁 𝗜𝗻𝗱𝗶𝗮𝗻 𝗰𝗼𝗺𝗲𝗱𝘆 𝘀𝘂𝗽𝗲𝗿𝘀𝘁𝗮𝗿 𝗦𝗢𝗥𝗔𝗕𝗛 𝗣𝗔𝗡𝗧!
With over 2000 shows across 20 countries, SORABH PANT is a comedian best known for his AMAZON PRIME specials 'My Dad Thinks He's Funny' and 'Make India Great Again'! We cannot wait for his brand new hour of stand-up comedy along with special guests. For one night only and only at Shangri-La Chiangmai!
฿600 in advance GET TICKETS HERE! / ComedyClubBangkok.com / Text +6698-854-0410 / Call 081-134-0410. ฿800 at the door.
Event Details
Location:
Shangri-La Chiang Mai