River waves of the ocean
March 6 - May 6
La Luna Gallery is excited to invite you all to the opening reception of our new exhibition; River Waves of the Ocean. Featuring 15 talented Thai artists and curated by Krynkana Kongpetch.
River Waves of the Ocean will commemorate International Women's Day by stimulating discussion around modern gender roles in Thailand through art.
The opening reception takes place on Saturday, 6th March at 18.00 while the exhibition will be on display until May 6th, 2021.
*FREE ENTRY for all guests for both the opening night and the duration of the exhibition.
𝗣𝗮𝗿𝘁𝗶𝗰𝗶𝗽𝗮𝘁𝗶𝗻𝗴 𝗮𝗿𝘁𝗶𝘀𝘁𝘀:
Jiratchaya Pripwai
Surachai Sangsuwan
Yupha Mahamart
Praween Piangchompu
Sirirat Laotub
Lalita Singkhampuk
Sujitra Phoyen
Preeyachanok Ketsuwan
Chairat Puangern
Sirapapha Seetabut
Thepmetha Thepboonta (aka. Methagod)
Pichaya Satapornvajana (aka. BEERPITCH)
Natcharuya Rueangyot (aka. Chef Bright)
Piyathida Inta
Krynkana Kongpetch (curator)
Stay tuned for more details in the coming weeks.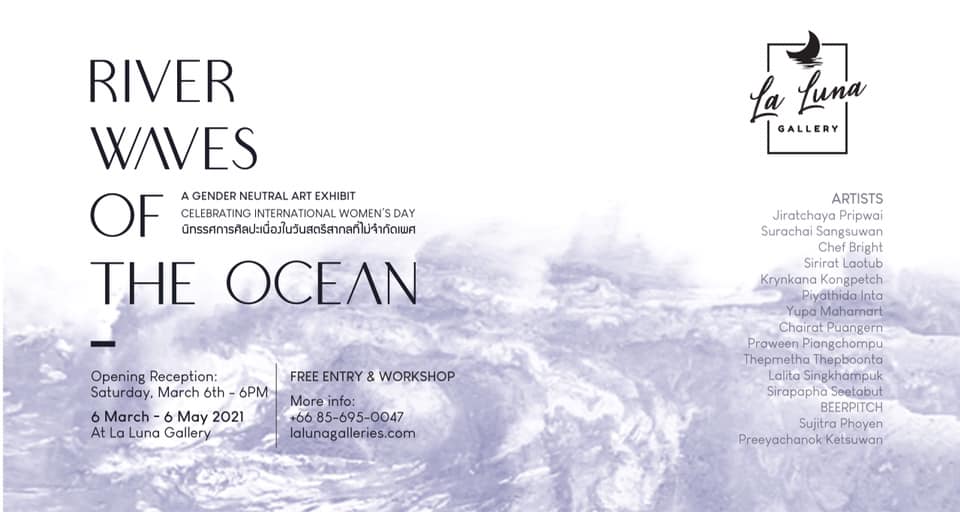 Event Details
Location:
La Luna Gallery