Momentum & L'Homme de Boue Double Bill
November 24
UNFOLDING KAFKA FESTIVAL 2019 presents
'MOMENTUM' by CocoonDance
(Germany/Dance)
http://www.cocoondance.de
Jitti Chompee, director of the 'Unfolding Kafka Festival', encountered this invigorating piece at the Tanzplattform Germany 2018 in Essen. The pulsating wild energy shared by the performers allows the audience to experience a shared immersive environment. The evolving kinetic energy generates the raw sensation of exhaustion which allows the collective in the space to connect at a primal level.
There is a club-like atmosphere: a feverish, live-produced and pulsating beat surrounded by an austere, dark setting. A slight twist of the torso here, a sudden nod there, then slowly accelerating to a swaying, a twitch or a gyration of the entire body. None of these external proceedings reveal anything about the inner feelings. Only the rhythm and speed unite the movements in a structural dimension. The pure physical, sweat-inducing choreography and the fusion of light and sound are generating a hypnotic energy.
'L'Homme de Boue' by Le Jardin des Délices
(France/Circus)
http://www.cielejardindesdelices.com
The Unfolding Kafka Festival encourages audiences of all ages to experience a new mode of French circus which combines sculptural art with circus juggling. The human body is fused with the tactile qualities of clay, the Earth's organic material. The raw malleable substance moves with the body to present an eccentric amalgamation of performance and visual art. The several art forms join in a hybrid composition, a work on matter, a play with limits. L'Homme de boue is a solo performance that deals with the figure of the monster, to be understood as an individual who does not respond to norms: in a way, the true definition of a circus artist.
Supported by the NATIONALES PERFORMANCE NETZ International Guest Performance Fund for Dance, which is funded by the Federal Government Commissioner for Culture and the Media. iDAS NRW international dance artist, MAIIAM Contemporary Art Museum, Jim Thompson Foundation, Ambassade de France en Thaïlande, Institut Français, Alliance Française Bangkok, World Performances @ Drama Chula, James H.W. Thompson Foundation, TCEB,
Photography by Christophe Raynaud de Lage
For more information the festival and other events please visit http://www.unfoldingkafkafestival.com/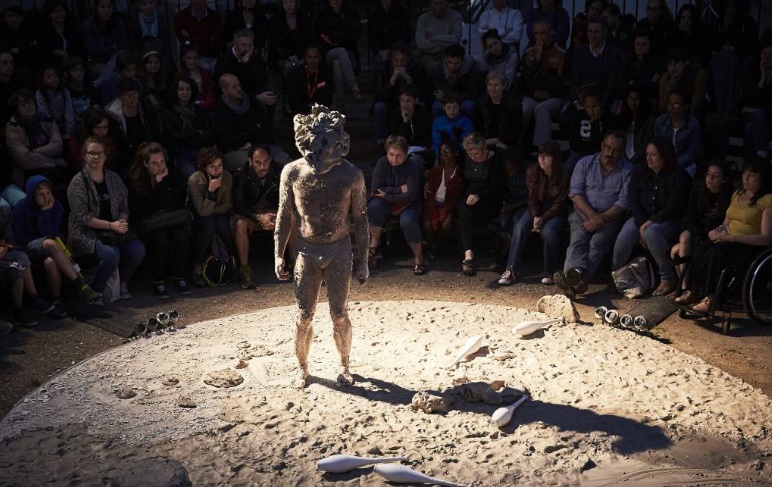 Event Details
Location:
MAIIAM Contemporary Art Museum