Manifest & Trive! 2 Day Transformative Workshop
January 29 - January 30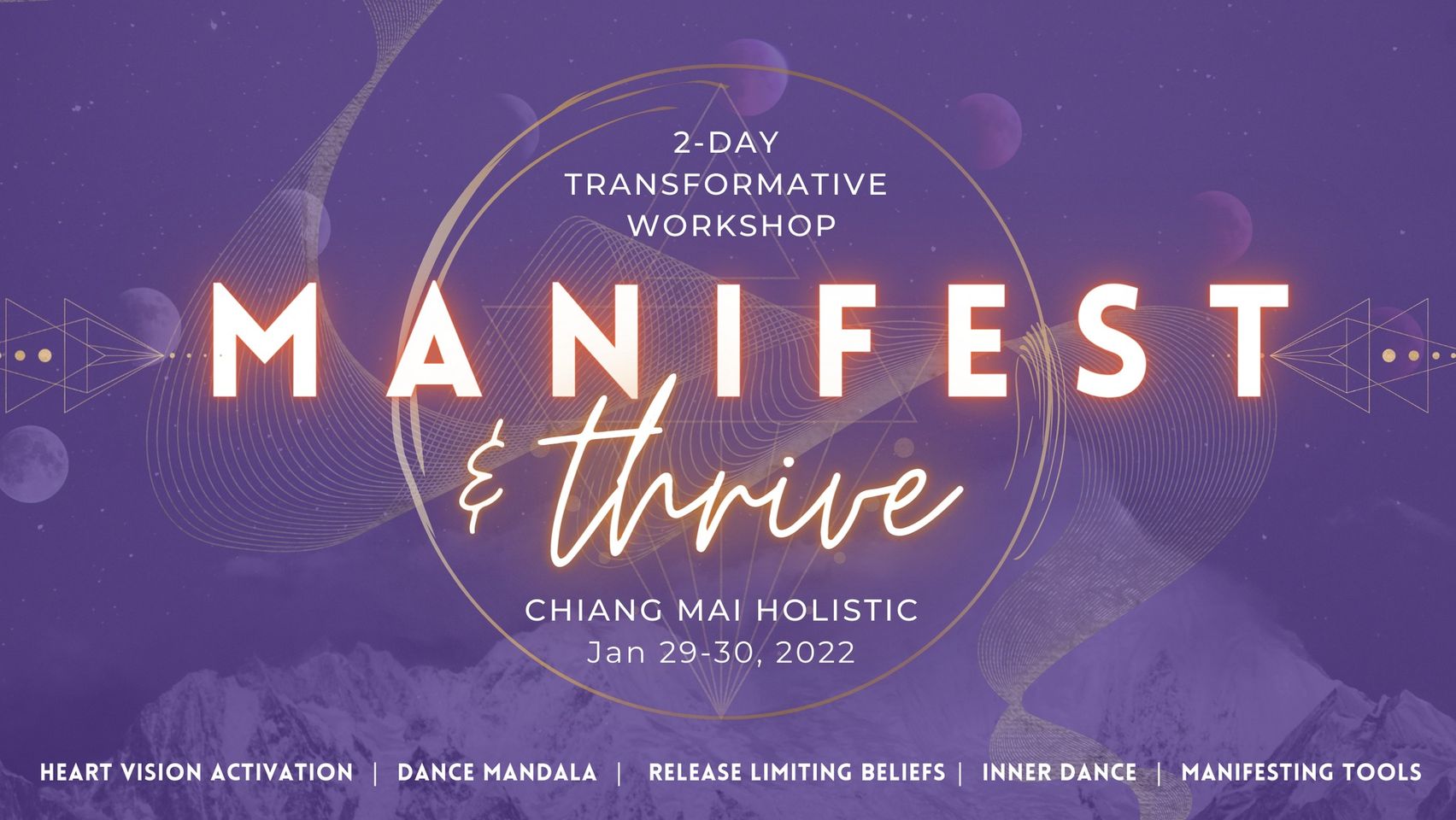 We are very excited to invite you to this transformative 2-day workshop!
The intention of this weekend workshop is to deeply connect and activate your heart vision, explore your creativity and authentic expression through meditation, movement and group coaching sessions, to build a joyful momentum towards materializing your dreams.
We invite you to either join with a clear intention about what you're wanting to "call in" to your life and what you would like to let go to, or to simply come and explore what magic is available to you in a open, inspiring and supportive space.
We'd be super honored to have you in the group! Feel free to message Alessia and Heidi with any questions or doubts that might come up for you.
We hope to see you soon!
LOCATION:
Chiang Mai Holistic
SCHEDULE:
DAY 1 – Sat, Jan 29th
10-11.15 AM
DANCE MANDALA SESSION
Activate & Energize
11.30AM-1 PM
HEART VISION ACTIVATION
Meditation & Group Coaching
{lunch}
2.30-3 PM
MOVEMENT/YOGA
Tapping into Your Flow
3-6 PM
RELEASING LIMITING BELIEFS WORKSHOP
Identify & let go of what's holding you back
{break}
7.30-9.15 PM
INNERDANCE
—
DAY 2 – Sun, Jan 30th
DANCE MANDALA & ART
10-11.30 AM
Flow & Create
11.45-1.15PM
MANIFESTING TOOLS
Group Coaching Exploration
{lunch}
3.4.15 PM
MOVEMENT AND AUTHENTIC EXPRESSION
Your Authentic Voice & Movement
4.30-6.30 PM
STEPPING INTO YOUR FUTURE THRIVING SELF
Meditation & Materialization
Final Sharing
{break}
7.30 PM
CRYSTAL BOWLS SOUND BATH
COST:
– Early bird price: 1500 THB (valid until Jan 11, 2022)
– Regular price: 1800 THB
– Only manifesting workshops without dance sessions: 1200 THB
LIMITED SPACES – Max 15 people
Event Details
Location:
Chiang Mai Holistic