Global Women – Women's Art
June 29 - July 28
"Global Women- Women's Art"
Art Exhibition By MaeYing Chiangrai Artists group and International Artists
Opening Reception : Saturday 29 June 2019 at 18.00 hrs.
Guest of honor : Mrs. Pusnee Pringpuangkeo
Exhibition on view : 29 June- 28 July 2019
At the 1st Floor Gallery, ArtBridge ChiangRai (ABCR)
Open Daily 10.00 AM – 07.00 PM (Admission Free)
More Info 088-418-5431, www.facebook.com/ArtBridgeChiangRai/
artbridge.cr@gmail.com
https://www.facebook.com/Maeyingchiangraiartists/
MaeYing Chiangrai was formed in 2017, drawing from the 300 strong membership of ArtBridgeChiangrai . Composed of female artists, many with distinctive and unique styles and techniques, this new group aims to provide a platform for art that embodies the empowerment and emergence of women.
In July 2017, their first exhibition " In Her Eyes" was held at Artbridge. Featuring 24 artists, it proved a great success with audiences and art collectors alike. During the exhibition, the group organised art appreciation and activities for the older people of Chiangrai.
July 2018 saw the "Her Charm" exhibition open at the Nan Riverside art gallery, collaborating with female artists from other Thailand provinces.
Now, in 2019, the group has spread it's wings even further. Back at Artbridge,their third exhibition " Global Women -Women's Art" will open in June. The MaeYing Chiangrai will be joined by collaborating women artists from Southeast Asia, the Indian subcontinent, America, Europe and other regions of Thailand. Fifty exhibitors will showcase their work and provide a unique opportunity for cultural exchange with international artists in Chiangrai.
The exhibition will be on view from June 29th until July 28th, 2019 at Artbridge, Chiangrai.'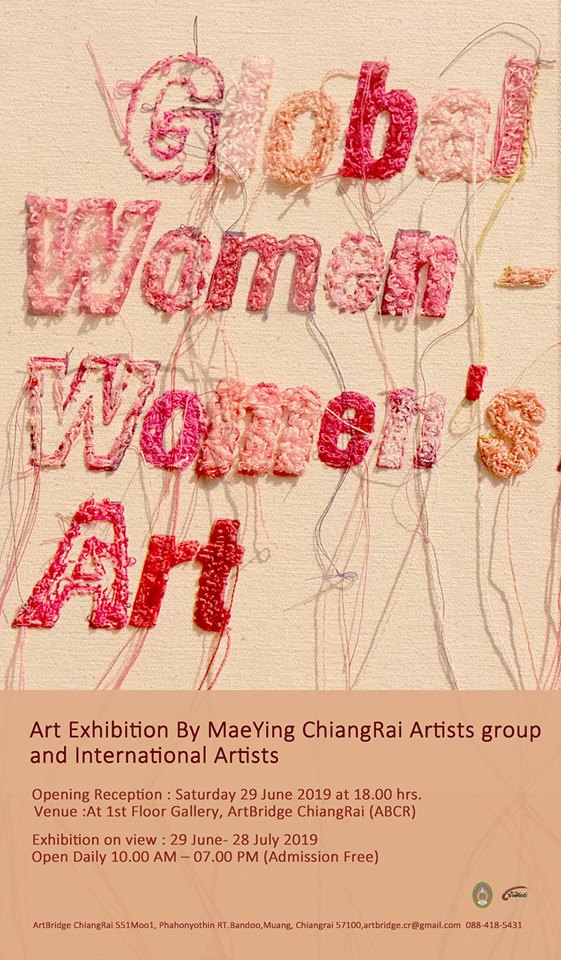 Event Details
Timing:
10.00 am - 7.00 pm
Location:
Artbridge
Chiang Rai