"Give a Love" customise clothes workshop
February 27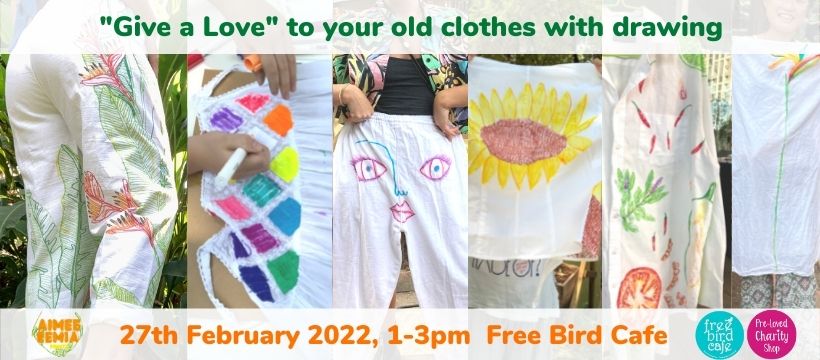 Do you have clothes that could be given new life?
Do you want to add more of your personality to your clothes?
Does being playful and trying something new excite you for a Sunday afternoon?
Join us on Sunday 27th February to play with fabric marker pens and "Give a Love" to pre-loved clothes.
You will learn how to make a quick design, and then you get to play with a heap of FABRIC markers pens (yes, you can wash them, no they don't wash out)
Bring:
Any light colour clothes that are natural fabrics:
cotton, linen, denim
Or come before to the Swapaholic event and get check out the Pre-Loved Charity Shop at Free Bird Cafe.
There will also be available "Give a Love" clothing from AIMEEEEMIA.prints available for purchasing.
About the space:
100% of the profits at Free Bird Cafe support a language and arts learning center for Refugees from Burma, and Indigenous Peoples; Thai Freedom House. We are also committed to sustainability and zero waste. On-site is Chiang Mai's first zero-waste health food store, My Best Life CNX, and a donation center and charity thrift store, Free Bird Pre-Loved Charity Shop and Donation Center. Feed your belly, heart, and spirit with us.
About AIMEEEEMIA:
AIMEEEEMIA is about bringing joy and brightness into our homes and environments through line drawings of things that bring us back home to ourselves: people, pets, plants and (fresh) produce.
The goal is to help people reconnect with their own versions of joy, to feel inspired and creative and ready to play in a sunshine kind of way.
Logistics:
There is plenty of bicycle, motorbike, and car parking on-site in front of the building and on Soi 9.
We have A/C and air purifiers in the enclosed areas.
Price: The cost of this event is 200B
(materials are provided)
We accept only cash or Thai bank transfer, there is an ATM at the top of the soi next to 7-11.