Come and see an exhibition of products from all over the upper northern region in the "Lanna Caravan"
September 23 - October 6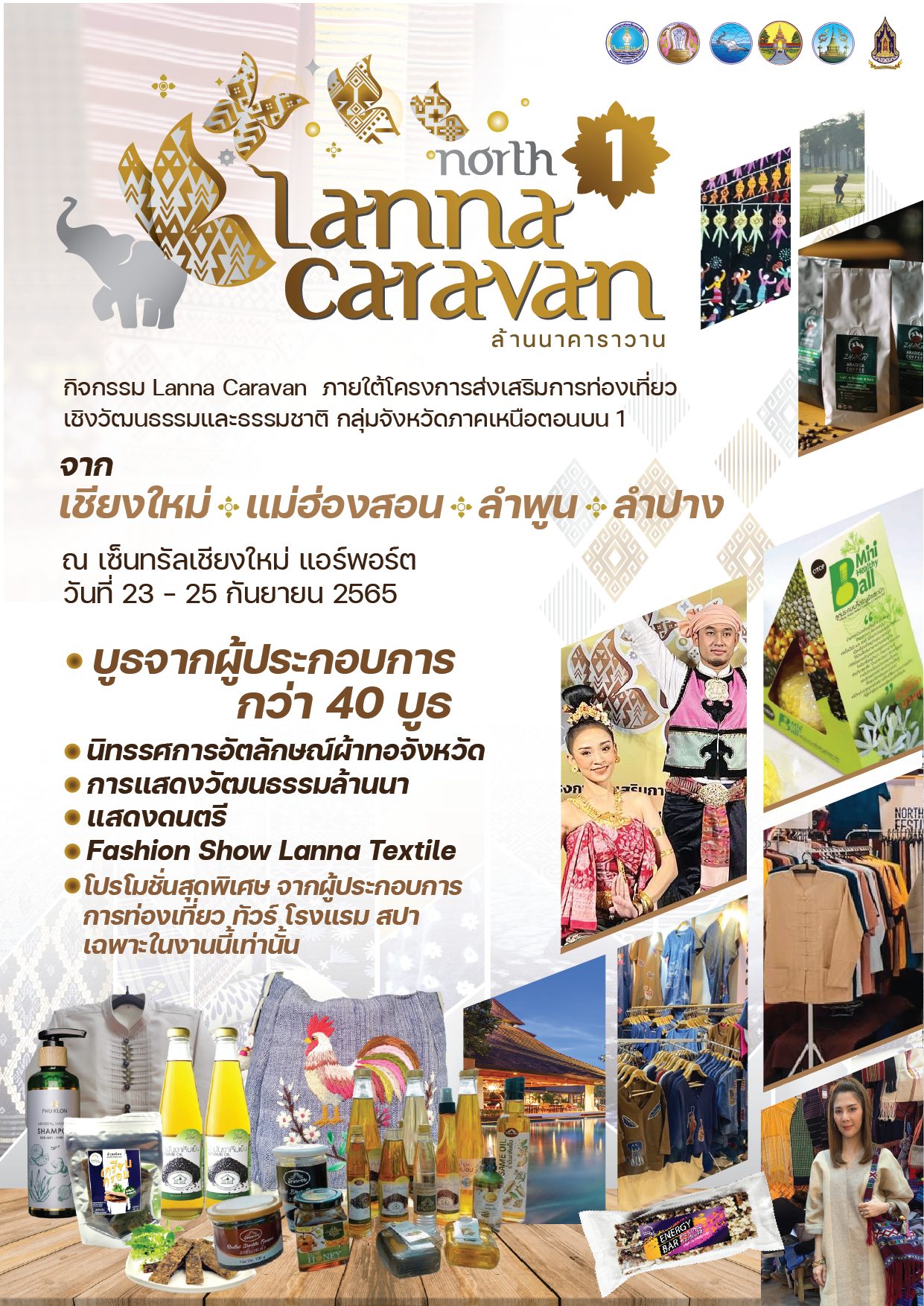 Chiang Mai Tourism and Sports Office invites residents and locals to visit the event and support entrepreneurs from the upper northern provinces group 1 (Chiang Mai Province, Lamphun Province, Lampang Province, Mae Hong Son Province)
▫️First event between 23-25 ​​September 2022 at Central Chiang Mai Airport.
▫️ The second event will be held between 4-6 October 2022 at Central Pinklao Department Store, Bangkok.
See booths from more than 40 entrepreneurs.
Exhibitions, cultural performances, demonstration activities and music
Various public relations promotional activities with special prizes!!
This event is promoted by the Tourism Activities Development Office by the Chiang Mai Provincial Tourism and Sports Office.
—————————————————————————————————————-
พบกับมหกรรมสินค้าจากทั่วภาคเหนือตอนบน 1 ที่รวบรวมมาให้ท่านในงาน "Lanna Caravan"
สำนักงานการท่องเที่ยวและกีฬา จ.เชียงใหม่ ขอเชิญชวนชาวเชียงใหม่ และพื้นที่ใกล้เคียง ร่วมอุดหนุนสินค้าจากผู้ประกอบการจากกลุ่มจังหวัดภาคเหนือตอนบน 1 (จ.เชียงใหม่, จ.ลำพูน, จ.ลำปาง, จ.แม่ฮ่องสอน)
▫️ครั้งที่ 1 จัดขึ้นระหว่างวันที่ 23-25 กันยายน 2565 ณ เซ็นทรัลเชียงใหม่ แอร์พอร์ต
▫️ครั้งที่ 2 จัดขึ้นระหว่างวันที่ 4 – 6 ตุลาคม 2565 ณ ห้างสรรพสินค้าเซ็นทรัลปิ่นเกล้า กทม.
พบกับการออกบูธจากผู้ประกอบการกว่า 40 บูธ
นิทรรศการ การแสดงวัฒนธรรม การแสดงดนตรี กิจกรรมสาธิต การแสดงศิลปวัฒนธรรม ดนตรี
กิจกรรมส่งเสริมการขาย การประชาสัมพันธ์ต่างๆ พร้อมของรางวัลสุดพิเศษ‼️
กิจกรรมนี้เกิดขึ้นภายใต้กิจกรรมการพัฒนากิจกรรมการท่องเที่ยว โดยสำนักงานการท่องเที่ยวและกีฬาจังหวัดเชียงใหม่
Event Details
Location:
Central Chiang Mai Airport and Central Pinklao Department Store, Bangkok