The eclecticism and sheer incredulity of a quasi-traditional Christmas time in Thailand is something I have come to like (I've had a few), and in no way do I miss the sacrosanct traditions, over-indulgence, and street violence of Christmas time in England.
Here's why.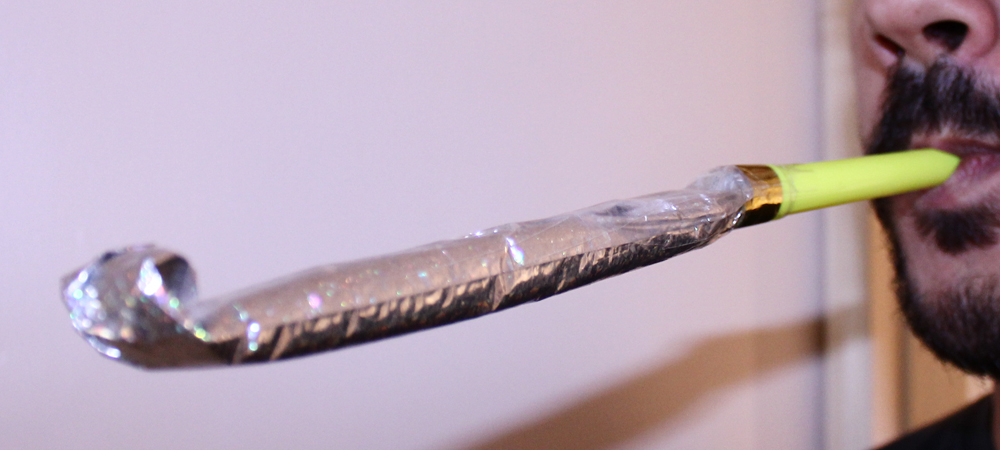 Proof of Madness: The Party Blower
Chiang Mai Santa:
In Thailand the majority of Santa costumes and flashing reindeer headsets are worn by prostitutes, male and female, which, for me, is both strange and amusing. The fact Santa is selling what most people want for Christmas, and not, as if often the case, a pair of fucking socks, makes me jolly. If you're not partial to paying money for a short-time conjugal bed, the symbolism of a prostitute wearing a Santa hat is for me very pleasing in itself. It's progressive, and in view of the likelihood of a drunk pedophile bouncing your little boy off his crooked knees in exchange for a packet of soft mints…well, a Chiang Mai Santa is just more honest, and kind.
It doesn't work:
Christmas in Thailand is a little bit desperate in its attempts to lure people into the Christmas spirit. It fails completely – this is after all a tropical country bereft of any notion of the meaning or history of Christmas – but its feeble attempts at creating a festive atmosphere, and the equally desperate party-goers trying to rekindle the past with their earnest exhortations for everyone to be merry, is a special kind of Christmas for me. It's kind of drunk on its own insanity, pathetic in a way, but wholly amusing, like watching a terrible dancer trying to pick up someone in a club they are 20 years too old to be in… or like watching your grandma pretending to like Rage against the Machine. If you want proof that inside we're all hysterical animals trying to get out of a rational skin, just take in the spectacle of someone trying a little bit too hard with a party-blower. In Thailand, where the horns sound mostly for themselves, the spectacle is more visible.
Make no mistake, Christmas in Chiang Mai is all about money, it's as sold out as David Beckham's opinions. If the west is exploiting the festive holiday by dint of our blind consumer demand, the East is just trying to pick up some crumbs. We have no pretensions here. Give me your money, or you're not coming in. And by the way, imports innit, everything is double the price.
In Thailand we can forgo, without any sense of guilt, turkey and stuffing, The Wizard of Oz, watching sherry dribble down a dying relative's chin, the inevitable Christmas punch-up.
Instead we can listen to Jingle Bells playing cyclically in the chilly walkways of a bauble spangled shopping mall and feel very little pressure to queue for 4 hours so that our nephew, little Jimmy, has the confoundingly expensive original X-Box game he wanted, and his parents can be content that we love him and sacrificed as much as they did for our little Danny. We can buy Jimmy a knock-off game from the Night Bazaar, or just ignore him, which is kind of acceptable. Say these words: "we don't celebrate Christmas"…and you just saved a shitload of money. Now you can afford to celebrate Christmas.
We might not be as deadly serious about Christmas over here, but we do our best, we do what we want, and I think that suits us all, whether we are single, compound, nuclear, or extended.
Our pubs, albeit sometimes following some kind of dispensatory (under and/or over table) agreement with the local BIB, stay open all night long, until we can unequivocally say that Christmas lasted as long as we wanted it to. It's by no means a fact, though it's a possibility, that we have more restaurants, pubs, galleries, bars, shops, salons, clubs, and dubious karaoke enterprises in this small city than in the whole of Greater London, and definitely the North Pole, where I think Christmas parties originated. We have snow, for a small fee, no contaminated slush and no wet feet, and we have sunshine throughout the whole of every day. And if you're loathe to kiss the same girl, or boy, under the mistletoe that you've been gradually working on for the last 25 years, you have human beings littering the streets of Chiang Mai that come in all shapes, sizes, languages, religious denominations, and that all exhibit slightly confusing but attractive cultural idiosyncratic traits. You can party here in Dutch, French, Japanese, Thai, English, Spanish and Cantonese in the same night…and no one expects an embossed card from you…'and family xxx'!
And so this December, for many the month of decadence, for others just another 12, I wish you an alternative Merry Christmas…or if for reasons of political correctness I am no longer allowed to use this term you can redact that and I will instead wish you a happy holiday…and if you are Thai and receive no holidays for this time of year, well, enjoy your weekend…I'm taking the next 2 weeks off, logging out, shutting the door, and painting the town black.