Interview with Alice
Alice grew up in Sydney, Australia, although her parent's Bangkokian heritage urged her to eventually come back to Thailand. But instead of growing roots in Bangkok, she settled in northern Chiang Mai, and has been exploring the food scene here for the last few years.
By creating a blog about where to eat in Chiang Mai, she's cleverly managed to combine her three favourite hobbies: photography, writing, and eating delicious food! She chronicles her adventures from road-side stalls to 5-star restaurants, and shares her love of all the available, affordable, and addictive cuisines in her chosen city.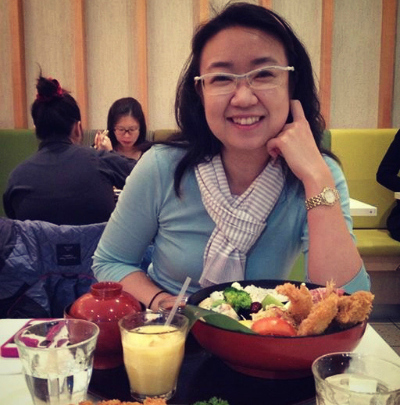 Read all about her favourite food and travel experiences below, and of course, where to eat in Chiang Mai.
1. What made you start blogging about food in Chiang Mai?
In the beginning, I just wanted to keep up a blog to let my friends overseas know about all the new food I was trying, and then I quickly saw that my posts were providing information that wasn't available online (like prices, or that a restaurant even exists!).
Blogging only became so popular about 7 years ago, and it was an easy way to express my feelings about food and places online. If it wasn't easy, I probably wouldn't have ever done it! But now, I keep doing it because people like it – when I don't update for too long they message me asking why, and recommending new places I should try.
2. What are your favourite cuisines and where do you get your fix?
That's so hard to say! I like everything! I love Thai food, and my favourite restaurant for fantastic Thai food is Saenkham Terrace, which is a bit pricey but totally worth it.
I really like Japanese food just like most of my friends. They always recommend new Japanese places to try, but some old favourites are San Sui Japanese Restaurant and Kitchen Hush.
I also really enjoy Indian food, but unfortunately there are not enough great Indian restaurants here, probably because the cuisine is not so popular with Thai people. There are an abundance of Italian restaurants though, which is fine by me because I can't ever turn down Italian food! I adore Fiore Rosa Italian in Doi Saket – it's a bit of a drive but the home-made food and quiet atmosphere is unbeatable.
3. Tell me about the food scene here – what's good, what's bad, and what needs to change?
We're lucky to have access to so much good food here in Chiang Mai. In Bangkok, I found it much harder to navigate the food scene. Here we're spoiled with great bakeries, coffee shops, Western food, international cuisines, and of course, all the Thai dishes you could possibly find!
I will admit we don't have everything though (like Greek or Lebanese food), but that is probably because it's not common for certain nationalities to live here and so there's no real demand for those cuisines.
In my opinion, all that needs to change is someone needs to fill the niches that aren't being filled – more Mediterranean food, better Indian food, and anything else you can share with people who might not have tried these cuisines before or just want to enjoy the cuisines they already love.
4. Is eating out in Chiang Mai affordable? How often do you eat out?
Well, I'm a real estate agent by day, but when I go out to a restaurant I like to take photos of the food and menu, and then write about it when I have some free time. So I don't eat out a lot, despite what people may think!
Usually, I enjoy a dinner at a restaurant twice or three times a month, and that ends up being very affordable. It's great that there are so many options to suit everyone's needs, from cheap Thai eateries to expensive, fancy restaurants.
5. Where's a good place to go on a night out, for drinks as well as good food?
The riverside is a nice area to take hungry people on a night out because of all the restaurants with bars there. The Gallery has delicious Thai food, although some might find it's toned down a bit for foreigners, so it might be a good place to bring people who can't handle their spice!
Mixology Bar & Grill is another cool, quirky place that's popped up in Chiang Mai, and offers creative cocktails along with funky twists on authentic Thai dishes, such as the Chiang Mai burger (a burger patty inside rice, with pork rinds on the side). The bar also has a resident Jack Russell named Junior, which is a win in my books!
6. Why do you think cafes and restaurants in Chiang Mai pop up and close down so quickly?
I'm not sure, but my guess is that the competition is just so high because there are so many restaurants, and some of them are really popular or well-established. I'm guilty too because if I like a restaurant I probably won't go back every week or month and support them, just because there are so many choices. I always end up somewhere new.
Perhaps there are a smaller number of repeat customers at some places because of this. I think some people go out of business or decide to close because Chiang Mai is changing and they might be getting tired, especially small family-run places that don't want to struggle to compete.
7. What cuisines are popular in Chiang Mai, and what would you like people to be more exposed to?
Besides Thai food, of course, Japanese food is really popular here now, along with the rest of Japanese culture. Thai people also really enjoy the foreign food that has come here, like hamburgers and steaks, because those flavours are so different and far away from the usual Thai food. And pizza is really popular here, even though a lot of it isn't done right!
I'd like to see more Mediterranean food here because those flavours are also very different to Asian cuisines. There used to be a great Spanish restaurant called Mi Casa, but unfortunately it closed down for good like so many others. So there's a lot of room for new cuisines to be introduced to people in Chiang Mai, both local and foreign.
8. What have been your best travel and food experiences so far?
I was travelling with some family members in Munich, Germany, where we came across the beautiful and gothic Cathedral of Our Dear Lady (Frauenkirche), and next to it was this lovely Bavarian pub called Andechser am Dom. It served all this authentic food like pork knuckles, potato dumplings, sausages, pretzels and sauerkraut, along with really tasty German beers (even the non-alcoholic ones were great!). We couldn't help going back over and over even though there is so much yummy food to experience in Munich!
I also have fond memories of my time in Japan. I remember eating at this little ramen noodle shop outside my hotel in Osaka a few times, and even though the dishes were simple – like seafood noodle soup – they were done so well. Osaka also had a lot of delicious Takoyaki (ball-shaped, fried snacks filled with octopus, ginger, and spring onion).
Kyoto was also a great place for interesting food, and I got to eat some by asking the friendly locals where to go. I also loved exploring the fresh food markets, like the enormous Nishiki Market.
Tokyo, of course, was also full of amazing food. I loved the sushi trains, where you could sit and watch the chefs prepare your sushi, and ask them for whatever you wanted. People think Japan is expensive but you can enjoy so much cheap food, and the friendly people will give you tips and help you find affordable restaurants.
Where to Eat in CM's Yummiest Blog Posts:
8 Recommended Thai Restaurants to Try
A popular post for foreigners and Thai people alike – where are the great Thai places? Where can you get modern takes on Thai food, or old-fashioned traditional food? Bookmark this list to help you find your next Thai place to show off to visitors and friends.
10 Thai Dishes to Try Other Than Pad Thai
Surely you've come across people who really think Thai cuisine is just Pad Thai and spring rolls! Well here, Alice implores you to try all sorts of interesting and delicious Thai dishes like Som Tam (green papaya salad), Lad Na (thick gravy and noodles) and Sai Ua (famous Northern Thai sausage).
Alice loves this little café and recommends a short drive out the city to experience their scrumptious sweet treats. Think Giant Cookie Cakes, Nutella Cocoa and the fantastically unusual Peach & Kumquat Upside-Down Cake.
You can keep up with Alice at her Where to Eat in Chiang Mai? blog and Facebook page.