The soft click of hand looms, light laughter and brightly patterned scarves greet me at the entrance of the Baan Sanook house. Ten pairs of eyes follow as I slip off my shoes and enter the small office directly off of the art studio. The president's desk sits in the centre, a bare wooden table with a single desk chair. He has no framed certificates announcing his accomplishments, no pictures of him receiving accolades, and no display case of shiny medals to greet me. Instead there are photos – the bright faces of the members of the Baan Sanook fill the blank walls. As the hand looms clack and creak, Pradit Prechanot, the president of the community centre, weaves his own tale.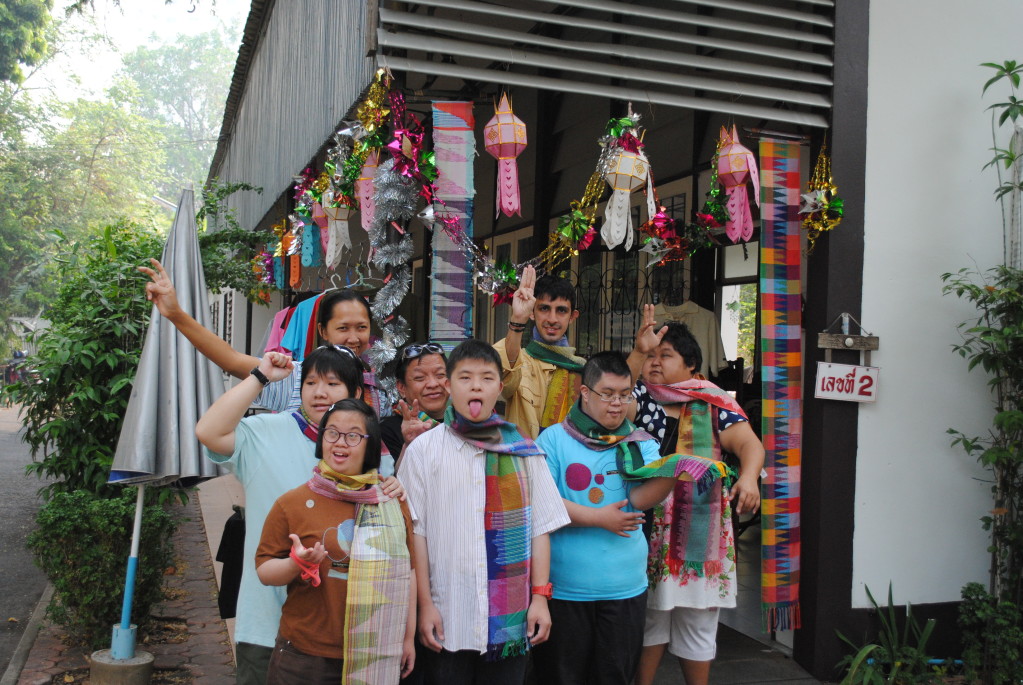 The artists of Baan Sanook
Baan Sanook, which directly translates to "House of Joy," is run by the Healing Family Foundation. Founded in 2005 by a group of parents who wanted to give their intellectually disabled children a brighter future in a society where those with disabilities are often ignored, the foundation provides a space where members can socialise, work, take trips, dance, share meals and enjoy themselves alongside others with similar backgrounds.
Tun, the youngest of Pradit's three children, is intellectually disabled. Now 50 years old, he takes great pride and pleasure in his role as an artist working and weaving at Baan Sanook, however, finding his place in society was not always possible. Fifty years ago there were not many opportunities or much empathy for those with disabilities. Pradit encouraged his son and strove to get him involved by sending him to kindergarten. However, it didn't take long for Pradit to realise that something was amiss and that his son was not developing at the same pace as his classmates.
"I tried to send him to school because I wanted him to be part of society. I wanted him to have a chance to join in with others. To make friends and study," says Pradit.
Unable to attend traditional schools, and in a household of working parents that made it impossible for Tun to just stay home, Pradit searched for other options for his son. He enrolled him in different community centres and programmes until finally an opportunity presented itself when, by sheer luck, a special education school called Kavila Anugul opened just down the street.
Tun enrolled in the school, which adapted education to fit a multitude of special needs including intellectual disabilities, in his early 20s.  He bonded with other students and went on to graduate from the school five years later. But then things came to a standstill again. Unable to work in a conventional job, Tun spent a few years at home before Pradit received a phone call that would change his son's life and the lives of all of those who have come into contact with The Healing Family Foundation.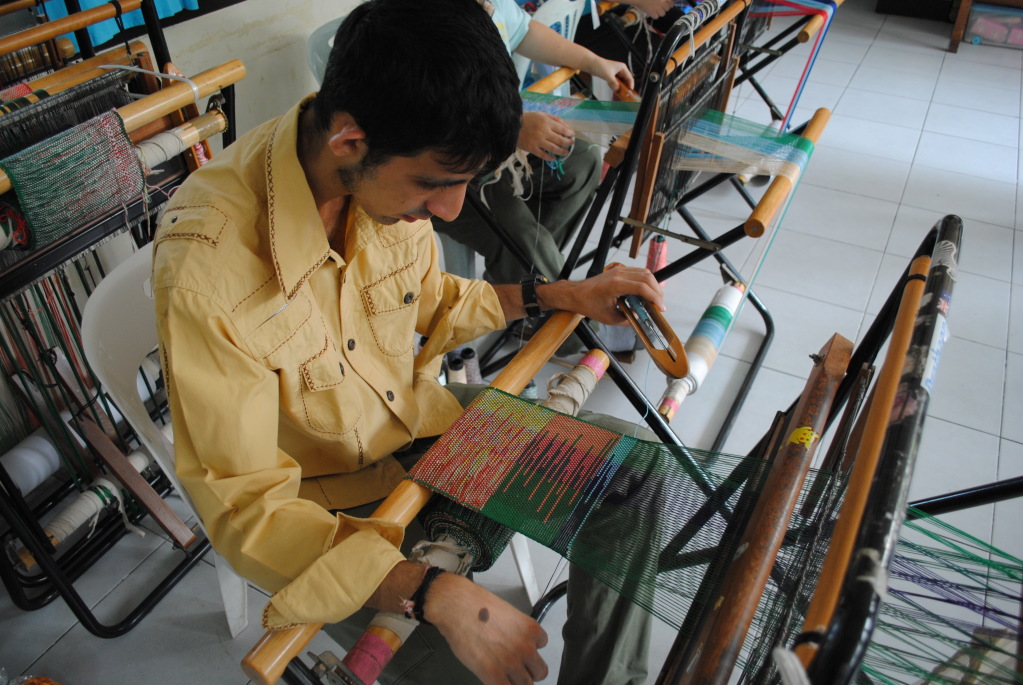 Baan Sanook artist Pratheep weaving at the modified loom
"A friend of mine told me about a Japanese organisation, The Saori Creative Centre, that had come to Chiang Mai," Pradit recalls. "They needed students who had graduated from the special education school to participate in a new programme they were trying to launch. At first, I was really happy that my son could get involved, but when I heard they wanted him to weave, I was scared he might not be able to or that he would damage the loom. When I brought him to join the organisation the first day, he met with his friend from school and I could see how happy he was.  He needs friends and to be part of something. It was a very important moment for me because I didn't think that my son could do it, but when given the chance, he could."
The charity, which began using hand looms as a way for senior citizens to continue working after retirement, adapted the looms to give those with disabilities the chance to work. After successfully launching their programme in Japan, they came to Chiang Mai and set up shop.
After about three years, when it came time for the charity to leave – visas had run out – the families were not ready for the project to end. They met, deciding that they would continue the mission, even without the original organisation. The charity donated the house and studio, along with the specially-fitted hand looms to the Healing Family Foundation. "The only thing they didn't leave us was more money," Pradit chuckles, recalling the hoops they had to jump through before being officially recognised as a foundation by the Thai government.
Ten years later, the centre, which employs 14 artists, three of whom work from home on hand looms fitted to their own unique needs, is financially stable, running off of private donations and the money made from selling products produced by the artisans.
"There are many people who see what we are doing and want to join, but we don't have the space," Pradit tells me. Not a cent comes from the government and while the cash flow is enough to keep the project up and running, it is a far cry from winning the lottery and by no means enough for expansion."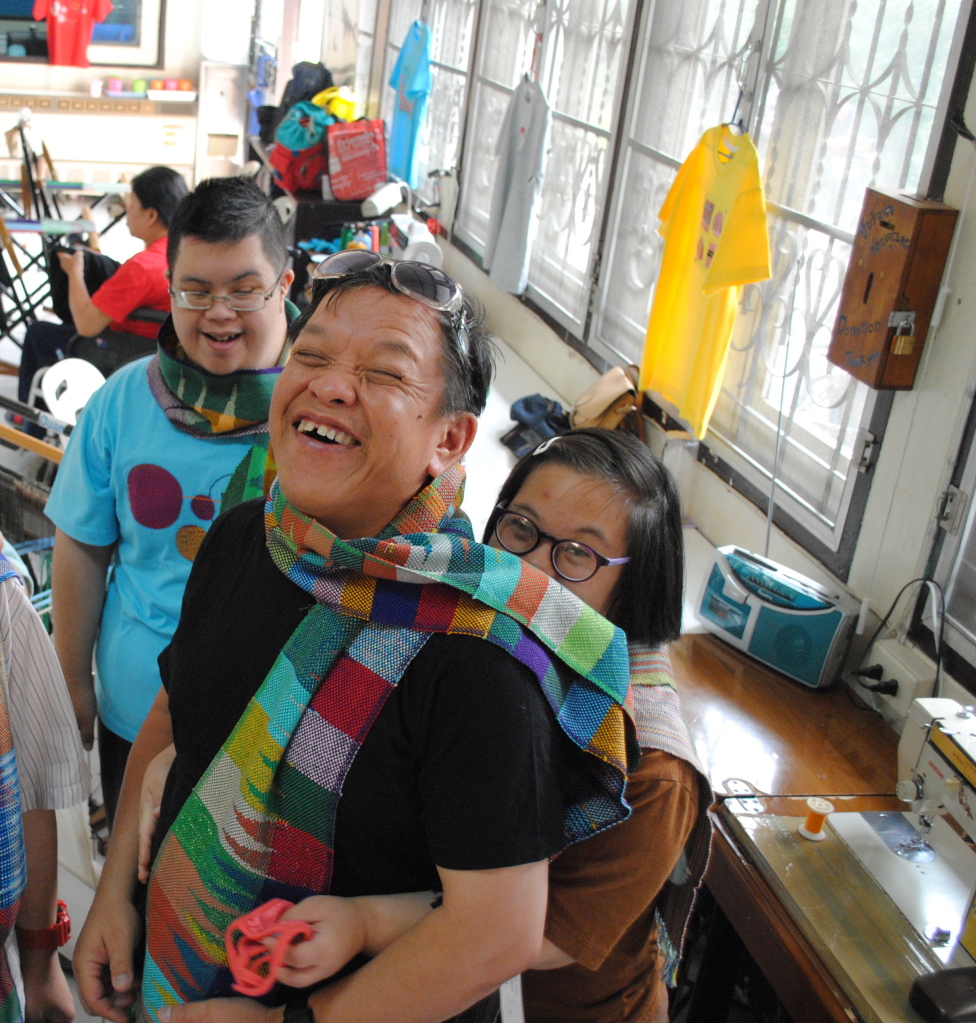 President Pradit's son Tun in a hand-woven scarf made at Baan Sanook
Our first priority is to help people understand that this group of people with disabilities, they can do many, many things, but they don't get the opportunity from society. If after that people want to donate or buy something in the store, we are very happy, but the first priority is never the donation."
Although the foundation's main focus is on improving the quality of life for those with intellectual disabilities, it strives to provide all groups with brighter prospects. Mai, a gentle woman with a generous heart, is confined to a wheelchair. She tells me that in the past she had a hard time finding a job, partially because of her wheels but mostly because of the negative perceptions about her disability. Today, she is a mentor at Baan Sanook, and takes great pride in her role. As she wheels gracefully in and out of the looms, pausing periodically to help an artist or refocus his or her attention, she explains that each article woven is a direct reflection of the individual.
"We don't give them a pattern or tell them what they must do," Mai says, adding that self-expression and being happy in your own skin are two values that are heavily emphasised.  This message hits close to home, considering that the word saori, in the original name chosen by the Japanese, means "free to do something."
"That goes beyond weaving," Pradit tells me. "They are free to express themselves and find their own path."
When the artists aren't working on their weaving, they play host to a vast number of local groups, schools and organisations. The success of these meetings is mirrored in the excitement the visitors feel at learning a unique skill and the pride the artists exude at having been able to teach someone something.
At 80, the only signs of age that President Pradit shows are the lines of wisdom that mark his face. He's serving his third term as president and has high goals for the foundation's future. "I am requesting funds from the government to expand this idea to include other groups," he says. "The Japanese started with the elderly and moved to include the disabled. I am doing it the other way."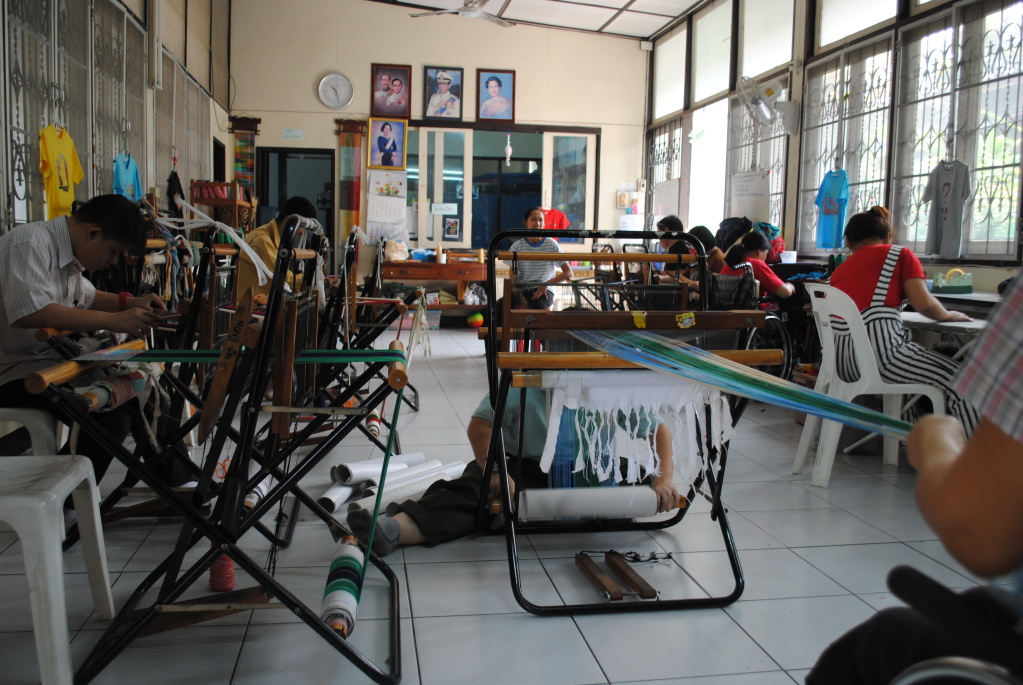 Baan Sanook artists hard at work
The centre is in the process of requesting a small budget from the government that would allow them to expand their project to include those who have retired, but want or need to keep working. The budget would allow them to supply the elderly with looms at home, where they can produce handicrafts that will later be sold in the store. The foundation is also setting its goals higher and looking for opportunities to expand their customer base.
Pradit holds on to the hope that one day the government will recognise the need for more support and better facilities and offer funding for more spaces like Baan Sanook. Until then, the Healing Family Foundation's first priority will be to continue its quest to promote understanding and advocate for those with disabilities.
Whether you're after a creative new t-shirt to add to your repertoire, want to learn the art of weaving yourself, or just interested in paying a visit, Baan Sanook's doors are always open with the hope that those who visit will go on to spread the word: people with intellectual and physical disabilities, when given the chance, can do great things.
The Healing Family Foundation
Open Monday through Friday, 9am- 5pm
2 Nawatket Rd., T. Wat Gate
053 244 393