An Interview with Justin and Catherine
The story goes like this: two solo travellers meet on a beach in South Korea surrounded by friends, and spend the night chatting away while everybody else saunters off to sleep. From then on, the two become inseparable.
Three months into their romance, Justin told Catherine he knew they were going to end up married, and next came an engagement in Phuket, followed by a wedding in Catherine's home country of South Africa. They now live and work as English teachers in Qingdao, China, and are expecting a baby boy together.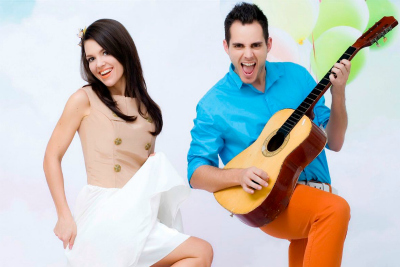 I was lucky enough to catch them on a quick holiday in Chiang Mai, and quizzed about teaching in China, their thoughts on Chiang Mai and Thailand, and where they want to raise a family abroad.
1. How did you settle in China, after travelling to Thailand and living in South Korea?
C: I had always wanted to see the world. I was at home, craving something new, looking for change and adventure. So I came to Thailand, where I planned to become a teacher, but then somebody told me about South Korea – they would pay for my accommodation and flights, and the salary was much more attractive.
J: One of my friends was travelling abroad, so when I was at home in Texas, I just thought, "Why not?" and went with him. I told myself I'd be abroad for maybe 1 year, so living abroad was accidental, really.
C: Once we'd met in South Korea, we taught there for three years, and then some friends were moving to China, so again, we thought, "Why not?" and followed them. We wanted a different experience, while still being able to travel. So now we're in our second year in China, and we still travel every winter break.
2. Did you expect to find love abroad?
C: When we first met, Justin worked down south and I worked in the middle (of South Korea) so we were making 5 hour train trips every weekend to see each other.
J: We would Skype every night, too. That's not at all what we expected to be doing abroad!
C: Out of all the foreigners you'll find travelling, why would you expect to find The One, you know? Neither of us expected to find love abroad.
3. Do you have any special or romantic spots?
C: Long Beach Villa in Krabi. Great little quiet bungalows right near the beach – perfect for a romantic stroll!
J: Boracay (in the Philippines) was a special place for us. But we were there four years ago – I've heard it's party central now, so it might not be too romantic any more.
C: Oh and Phuket, too, because that's where we got engaged.
4. What do you like most about being a tourist in Thailand?
C: The food! We love Thai food – always fresh and flavourful. And it's no big deal to eat all day long like the Thais do. Thai people have passion for their food, and so do we!
J: This might not seem like the case, but coming from China it feels like so many more people speak English here in Chiang Mai. Also, people are more relaxed and genuine.
C: Of course, Thailand still has its problems, but after travelling so much, we both know how to avoid the scams. We always tell ourselves after a bad experience that they are just trying to make money. We don't take it personally if we feel like walking dollar signs.
J: And the weather. Don't forget Thailand's fantastic weather.
5. What are the biggest differences between China and Thailand, in your eyes?
C: The food, again. In Thailand fresh food is common, but in China it's not. There are more ingredients in the dishes, more love in the cooking, and a better appreciation for food here.
J: In China, there are just so many people, so everyone is used to having no personal space. I think that's an issue when Chinese people visit Thailand, because they do things they are used to at home. It's second nature for Chinese people to bump into you without saying sorry – it's not rude for them at all.
C: We don't want to badmouth China – I mean, we live there – but Thai people are definitely more gracious and genuine.
J: Also, the pollution is so much worse in China. There is always a layer of smog, and right now we wouldn't be able to see the ground from our apartment window. It's absolutely terrible. Chiang Mai has pollution problems too, but it's not as bad as China… yet.
6. What have been your favourite overseas trips so far?
C: We had a six-week backpacking trip that covered five countries – that was pretty great! So we began in Xiamen in Southeast China, and then made our way to Vietnam, and travelled from Hanoi to Halong Bay, seeing a few islands along the way. Then we flew to Singapore for a couple of days, and from there to Malaysia, where we visited Melaka and Kuala Lumpur. We also got to explore the Taman Negara, the oldest rainforest in the world, and see the beautiful Cameron Highlands. We then found our way to Krabi, then Koh Tao, and then ended up getting engaged in Phuket. That was definitely a trip of a lifetime!
7. Where do you plan to settle and raise a family?
J: My parents really want us to move to my hometown of Dallas, Texas, to raise our baby. But what if we settle there for the family, and we just get that itch to leave again?
C: We don't know right now, but we do know we won't stay in China. Ideally, we'd love to settle somewhere sunny, like Thailand, or Bali. Or even Singapore – that would be a great long-term city to raise a family.
8. How do you maintain the blog on top of teaching and travelling?
J: We use our iPad and always blog as we go, but at home we spend more time writing longer stories after work.
C: We always have material because we started the blog about 2 years ago, but we've been travelling and living abroad for four years.
J: Plus, there is always something to write about in China. There are just too many weird and interesting things there that people enjoy reading about.
9. What are your highlights from your Chiang Mai holiday so far?
C: We've loved our time here, and we always do. We've been waking up and heading straight to Juicy4u (in the Old City) and we enjoyed a Sunday evening listening to a great band at The Garden (on Chiang Mai's Sunday Walking Street).
J: I've been eating a lot of Massaman curry – it's my favourite and it's always so good here. The food has really been a highlight for us, especially the street food and cheap meals from little makeshift cafés.
C: A great date night place is Hot Chilli on Rachadamnoen Road – the one with the beautiful décor: hanging red flowers and lights. It's a little expensive but worth it for a special night.
10. What is your advice to couples travelling and living abroad?
J: When you're travelling as a couple, make sure you can stand to spend every single second together!
C: And make sure you're on the same page, especially when it comes to money. Have a daily budget and agree about what you spend, always. Money shouldn't cause fights when you're on the road together.
J: Be prepared to change plans at the last minute, and be open-minded. Don't plan a rigid itinerary and then freak out when it doesn't work out that way. Go with the flow and enjoy each other instead of stressing out.
C: Yeah, don't put yourself in a box. You always meet new people when travelling, which can create insecurities if you're unsure about your relationship's boundaries. If you really are secure in your relationship, then you just won't have those problems.
J: And don't be afraid of it. It's always more fun travelling with someone you love and experiencing everything together. It's just incomparable to travelling alone.
Traveling with JC's Best Blog Posts From Thailand:
The Exquisite Nang Yuan Islands
Justin and Catherine spent some time on Ko Nang Yuan, a group of three islands northwest Ko Tao, connected together by a stretch of white-sand beach.
The couple go on a 9 Island Snorkel Tour and share their experience in this post.
Yes, more islands! Check out this post for breathtaking photos from Ko Phi Phi.
Bonus Post: A Travel Update From Chiang Mai
Justin and Catherine share their experience of their recent holiday to Chiang Mai.
You can keep up with Justin and Catherine over at the Traveling With JC blog or Facebook Page.