An Interview with Christopher and Angela:
Twenty-something married couple Christopher and Angela Scott, both from DC, Washington, sat down with me one afternoon to discuss Chiang Mai, life as an expat, and juggling a flourishing blog with full-time teaching.
Christopher grew up in a military family who travelled extensively, allowing him to live in Italy for 6 years and Bahrain for 2, while Angela's first taste of the outside world was Thailand. The couple have since explored the nearby wonders of Laos, Malaysia, and Cambodia, and desperately want to see the picturesque scenes of Sapa in Vietnam.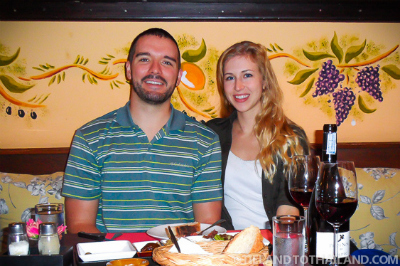 Here I question them all about their lives as expats in Chiang Mai, and their travel plans for the future:
1. Why did you move abroad?
C: We were just tired of the hustle and bustle, really. That lifestyle we all know so well: get a job, get in debt, spend your life paying it off, then die! We didn't like what was expected of us as a young married couple in America. We just wanted to get as far away from that as possible.
A: We both had well-paying jobs back home, cars, pets, and all the rest. But eventually it felt like we were living in Groundhog Day, you know? There was no passion – just the same, boring routine.
C: We wanted freedom, and we didn't want to wait until we were retired to live life. We thought we might as well do it now, while we're still young and energetic.
2. How do you guys make a living in Chiang Mai?
A: I teach at a school full-time. But it's really tiring, because I still work on the blog when I get home.
C: We do some travel consulting online. But honestly, we made so much money selling our stuff before we arrived, so we could actually last out here without worrying too much.
A: We became masters of craigslist!
C: Yeah, we weren't going to come over here to struggle. We had to do it right.
A: Oh, and we do a little affiliate advertising, as well as hotel reviews. The blog has a real following, and we have an online persona to keep up with. It just gets a bit much with the full-time teaching as well.
3. What are the best things about being an expat in Chiang Mai?
A: I'm a busybody, so it's great that there's so much to do here! Yoga, massages, shopping at the malls and markets. I love the convenience, too. Chiang Mai has everything you need.
C: Yeah, accessibility is definitely number one for me. Even though we're up here in the north, we're still so connected. There's such a community and lots of support. This city has everything you could need as an expat.
4. And the worst things…?
A: Transportation. I've lost the freedom to drive, and I would never buy a car here. I walk everywhere, and I think you have to be gutsy to do that. I refuse to pay tuk-tuk prices!
C: Grumpy expats! No, no, just kidding. But there definitely are some unhappy people here that love complaining a lot. That gets old real quick!
A: And sometimes it's hard to find some Western products I need. I loved cooking back home, and I still do, but it was quite difficult adjusting to Thai-style kitchens and the availability of certain foods.
5. What do you think of the local expat communities?
C: We don't know of any one, singular expat community – there are all the different groups and interests and so on. For us, it took at least 6 months to find our solid circle of friends.
A: It's hard to find expats like you, especially as a young married couple. I suppose it's easier being single – you don't want to just sit around alone every night, so you get out there and make friends.
C: Yeah, and we enable each other in a way, because we're so comfortable together. As bloggers, people email you and want to sit down to dinner with you, but I'm much more private than that. Angela's the outgoing one.
A: Having said that, we have met some great people here. Our best friends are probably J-mayel and Sacha from 8 Miles From Home. We were following their blog before we even arrived!
6. What do you wish you had known when you first arrived in Chiang Mai?
A: I wish I had known about Warorot Market! We blew so much cash on towels, linen, pots and pans – all the important stuff. We spent a fortune at Tesco when we could have just taken a day to wander around Warorot. Sure, there are no neatly-labelled isles or plastic-wrapped goods, but you can find everything you need to furnish an apartment.
C: Songthaews are meant to be 20 baht, pretty much anywhere in the city. It took us forever to realize that 150 baht from the train station to the old city just didn't make sense. Eventually, when we figured it out, we kicked ourselves. Like, "Ohhh! Duhhhh!"
A: Also, we didn't fully prepare ourselves for bringing a pet to Thailand. It was such a stressful process and there isn't a lot of information about it online. We've learnt after living here that Thailand is not really pet-friendly. A hotel on Tripadvisor might say they're pet-friendly, but when you actually show up with your pet it's a different story and they don't want to deal with you. I will say that the healthcare for pets is just as great as it is for humans, though!
7. Where do you see yourselves in the future?
C: We're about to go to Hua Hin for two months. Later on, we're going back to the States, but we'll probably come back here. Ultimately, it's our dream to split our time between Guatemala and Chiang Mai – the cost of living and the weather are perfect.
A: We want to see more of Thailand, and also Vietnam. Everyone who's told us about Sapa makes it sound so picturesque. That would be an amazing journey for us.
8. Where did you get your information and advice before moving here?
C: The only Thailand-related blog we really followed was 8 Miles From Home. Otherwise, I'd literally watch Youtube videos all day – anything to do with Chiang Mai and Thailand.
A: We did have an early idea of a budget from our research. Our initial goal was US$1000 a month for the two of us, which we only really went over during the festive season.
9. What do you do for fun in Chiang Mai?
C: We spend a lot of time hanging out at Be Beez Guesthouse because our friend is the owner. It's a great little place with good food and cheap beer.
A: We just like getting out of the house, grabbing a smoothie and having a chit-chat.
C: Huay Tung Tao Lake is also a really nice way to waste away an afternoon.
A: And cooking, like I said. We love cooking!
C: And trying new restaurants. We're big foodies, which means Chiang Mai is a great place to be. We can spend hours at a good restaurant, just chatting about the food!
Helpful Blog Posts for Expats:
Living As Young Expats in Chiang Mai, Thailand
Ever wondered what the downside is to being an expat couple in Chiang Mai? Maybe, just for once, you want to read why Chiang Mai isn't totally perfect? Well, this is the post for you. Of course, living abroad also has its benefits, like travelling, eating yummy food, and finding fulfilment, of course!
Here Chris and Angela share their monthly budget in Chiang Mai and what they spend on food, nightlife, transport, groceries and more, and how they still manage to save a few bucks for an annual trip back to the States.
9 Myths About Thailand That Worry Your Family
We've all heard the innocent misconceptions from friends and families, from the simple, "Are you safe? Can you drive there? Have you got a disease yet?" to the more ridiculous "Does everyone speak Taiwanese? Do tigers come into your apartment at night?". In this post, Chris and Angela tear up the common myths about Thailand and set the story straight.
You can keep up with Chris and Angela over at the Tieland to Thailand blog, Facebook page, or twitter.