An Interview with Ryan
Wisconsin-native Ryan was interested in Asia and Buddhism way back in university, and then had the opportunity to study at Chiang Mai University in 2001 and 2002. He never looked back and has been exploring Asia ever since.
After a good number of years teaching English as a way to experience life in Thailand, Taiwan, South Korea, and Japan, the devastating and long-term effects of the 2011 Fukushima earthquake urged Ryan to move away from Japan for good.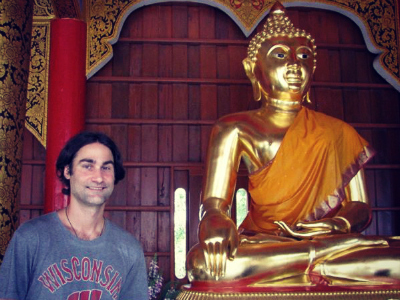 Now a fluent Thai speaker and Buddhist, Ryan shares his knowledge and day-to-day experiences of Chiang Mai and Thailand on his blog. Here I interview him about life as a long-term expat in Chiang Mai.
1. What were your first impressions of Thailand, and how do you think the country is different from a decade ago?
I was always interested in Thai culture, but my first impression of Thailand wasn't a very good one. It was in Bangkok, and I remember how I was always hot and bothered. I remember hating the smells – at the time, it was a bit much for me. I remember Khao San Road, and not much has changed there. But then I got out of Bangkok and saw more of the beautiful country. Shortly after, I began to pick up Thai, and my views of Thailand became much more positive.
2. How do you maintain your Thai lifestyle?
Initially, I was a student of Asian Language and Culture, and I gained a BA in Thai Language, but then moved to Japan to find work. I thought it was a useless degree until I found ThaiPod101, who were looking for someone fluent in Thai and English to teach through podcasts. Then I moved on to make Thai language learning apps in my spare time – I was lucky because there weren't too many iPhone apps back then, especially for learning Thai. I've done various things over the years to be able to live in Asia, from teaching to enjoying a passive income through my online work. Currently, I work at Studio Iglu, a stylish web design studio here in Chiang Mai.
3. What is your relationship with Buddhism?
I practice Tibetan Buddhism. I originally went to Nepal searching for a teacher, but ironically I met my Nepalese teacher much later in Chicago. I have been following him for a long time. Back in university, I was interested in philosophy and Buddhism just made sense to me. You could say I was Buddhist in a past life, and only remembered it from then, as opposed to discovering it for the first time.
4. What would you say are the biggest challenges to learning Thai?
Learning to read Thai is so necessary to learning to speak it. So many foreigners get the pronunciation of Thai words wrong because they are reading from the Romanized alphabet, which doesn't explain the sounds of words like the Thai script does. Reading also helps you get the tones right. I would say, nothing compares to learning Thai from a native speaker who can help you mimic the tones and consonants of the language.
5. You've chosen to live in Chiang Mai over a number of other Asian cities. What makes this city so attractive to you?
Well, for one, there are so many great places for a vegetarian and a coffee-addict. It's cheaper than Bangkok, by far! In Bangkok, I just blow all my money trying to get around from one place to another. Chiang Mai is still a good size – small enough to get around, even though it's grown a lot. And it's so easy to get out of the city and go exploring – just going for a drive to find some wilderness is one of the best things about living here.
Of course, Chiang Mai has its cons too. The pollution in March is unbearable, although it is still better than Bangkok's usual air pollution. And if you like beaches you're out of luck, because your only option would be to fly somewhere nearer to the sea. Personally, I think Chiang Mai lacks a really good bookstore. I always have to go to the Kinokuniya Bookshop in Siam Paragon in Bangkok for a proper selection.
6. What do you want to see in Chiang Mai's future?
Public transport! It seems strange to me that all these important people have been doing "studies" about public transport since I arrived in Chiang Mai, yet nothing's changed. Where's the money going? Why is there no progress on the matter? Something needs to change.
After seeing Hiroshima and Nagasaki's streetcar tram systems, I think that could work for Chiang Mai. An elevated train would ruin the city's character, in my opinion.
Also, it'd be nice if anything realistic was done about the burning, and some serious efforts made to reduce the smog problem during March. People don't seem to put two and two together – everyone complains that they can't breathe but then nothing is done to stop the burning, year in and year out.
7. What are must-see places for family or friends who visit you in Thailand?
I would take my parents on a 3 or 4 day road trip through the North, and make sure to stop off at the Mae Fah Luang Botanical Garden near Chiang Rai – my mom would love it there. And for my coffee-lover dad, we'd have to visit the Doi Chaang Village nearby, where you can see the former poppy plantations that are now Doi Chaang coffee plantations, and watch the sorting and roasting process in the factory. On the way back to Chiang Mae we'd also have to stop off at Bo Sang in San Kamphaeng so they could buy some silks and Thai handicrafts to take back home.
For friends, I'd probably have to show them all the normal tourist stuff like temples and trekking, as well as all the great restaurants and coffee shops in Chiang Mai. If they wanted to explore Bangkok, they'd have to visit the Grand Palace to see where the Kings of Siam lived, and the Mae Nak Shrine to learn about Thailand's most famous ghost.
8. You mentioned great restaurants and coffee shops in Chiang Mai. Tell us more!
Honestly, most of my favourite restaurants are the cheap little vegetarian shops. They always have cheap dishes, fresh ingredients, and friendly owners. My favourite coffee shop is Pacamara on Rachadamnoen Road; it's the perfect place to read, drink yummy iced coffees and watch the tourists walking by.
9. What would your advice be to expats wanting to settle in Chiang Mai?
I would say, find yourself some sort of passive income. Write an ebook, make some apps or even a niche website that could help people in a new way. If you're lucky enough, try investing some capital in something that could grow, because it really does help to have some extra steady income here. You could always teach, but then you'll just have a daily work routine here instead of at home, and it's easy to get stuck in that. So get out once in a while, remember you're abroad, and enjoy the city instead of becoming cynical or resentful. Chiang Mai is a great place to live right now.
Siam and Beyond's Topical Thailand Blog Posts:
Chinese Tourists Wearing Out Their Welcome
Here Ryan addresses the topic on everyone's mouths right now: the issue of Chinese tourists in Chiang Mai, and how everybody is either getting sick of them or just being racist (depending on how you view it). This post covers it all, from the Chinese visitors boosting the local economy to Chiang Mai University being misused as a green space (of which the city has so few!).
The Problem with Dual Pricing in Thailand
Another controversial topic that should be discussed more in Thailand. Ryan talks about how foreigners feel discriminated against when they are charged extortionate prices compared to locals, just to experience the natural wonders of Thailand like national parks and waterfalls. How does this affect future tourism and impact the country?
Smoke Pollution Makes March The Worst Time to Visit Chiang Mai
Ryan says, "You would be crazy to intentionally plan a trip to Chiang Mai during the month of March." Residents of the city know how bad the pollution gets, but visitors might not understand how gross Chiang Mai becomes once a year because of pollution. Check out Ryan's thoughts on the topic and before and after photos that clearly show the insane pollution.
You can keep up with Ryan at his Siam and Beyond blog and Facebook page.