Tucked away along a small soi of the old city, many people pass Ponganes cafe on a daily basis when wandering around and many stop for a quick coffee.
Coffee – If you are into coffee chances are you can spot a good cafe from a bad one. Ponganes seems to be a beacon for coffee lovers, either by reputation (being the highest rated cafe in Chiang Mai on trip advisor), by machinery (a glance into the cafe and you can see a beautiful and expensive coffee machine being worked hard), or by word of mouth (from other travellers). To sum up: the coffee here is probably the best in the old city!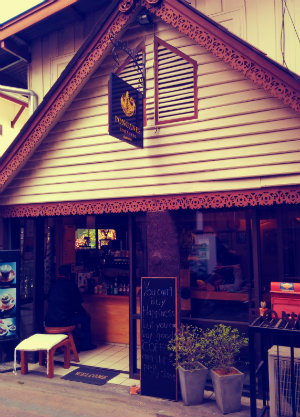 Cafe – The coffee is great and the cafe has a quaint European feel to it, small and interesting. The tables are mainly used for waiting for your coffee to be made or drinking and leaving. Customers are not really welcome to sit and relax for long periods of time- there isn't really enough space! There is an outdoor area next to the shop that you can stay longer but its usually busy and so Ponganes is best for takeaways!
Other – The owners mood can vary from friendly to stressed depending on the day / amount of customers/ weather. Just accept it as she will supply you with a great latte! And check out the espresso machine Mirage, one of the best machines out there and one of two Kees van der Westen machines in Chiang Mai (if you have spotted one let me know!!)
Cost: 50- 85 Baht
Open: 9:00 -18:00 (closed on Wednesday)
Location: Moon Muang Road, Soi 5
Website: www.ponganesespresso.com