CityNews – Thailand's Civil Court decided yesterday (19th February 2014) that the caretaker government has the authority to enforce the emergency decree to maintain peace and order, but the government has to refrain from the use of violence on anti-government demonstrators or to break up a peaceful demonstration. The court ruled that people has the right to a peaceful and constitutional assembly.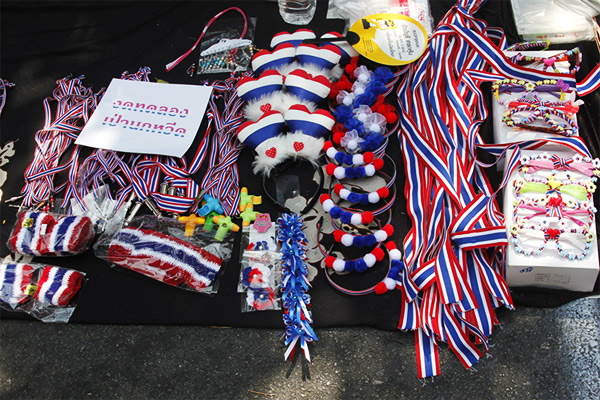 The Court issued a set of nine orders, prohibiting the caretaker government from dispersing a peaceful demonstration, using force or weapon to break up a peaceful gathering, ordering a ban on a political gathering of more than five people, ordering a blockage of traffic lanes, removing barriers put up by the protesters to protect themselves. It also ruled that the caretaker government cannot confiscate chemical substances used by the demonstrators for personal purposes, or stop the protesters from using traffic routes or from entering state premises.
The Court's ruling came after a member of the People's Democratic Reform Committee (PDRC) – the core anti-government demonstrator group – filed a lawsuit against the authority of the caretaker government, which has imposed a state of emergency in Bangkok and parts of Nonthaburi and Samut Prakan for 60 days, effective on 22 January 2014.
The emergency decree currently covers Bangkok and some parts of nearby provinces (Nonthaburi and Samut Prakan) only and not any other destinations in Thailand. There is currently no curfew in place in Bangkok or any other parts of Thailand. Local residents and international visitors can continue to travel within Bangkok and other destinations in the country as usual.
Meanwhile, the ongoing anti-government demonstration's main rally sites remain at Pathumwan intersection, Ratchaprasong intersection, Lumpini Park, Asoke intersection and the Government Complex (Chaeng Wattana Road), as well as two other sites on Ratchadamnoen Avenue and Phitsanulok Road. Roads in the areas may be closed to traffic.
The atmosphere at the rally sites continues to be normal to peaceful. The demonstrators are campaigning for a political reform before an election. During the day, the anti-government demonstrators are carrying out demonstration marches to different locations within Bangkok.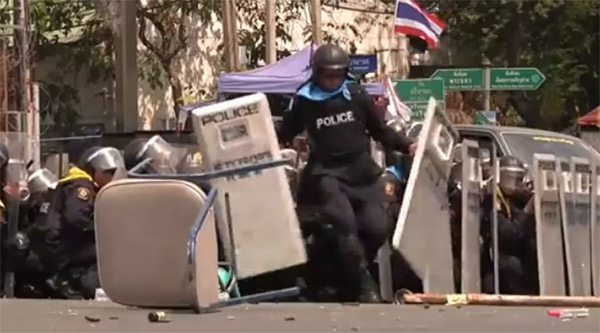 It is business as usual in Thailand
While the demonstrations are taking place in a few small areas in central Bangkok, life in the most parts of the Thai capital and throughout Thailand continues as usual. However, tourists are advised to be vigilant and avoid the demonstration areas, as well as areas where crowds may gather. This is because there may be traffic disruptions or delays and thus causing inconvenience.
Bangkok is a large city and so it is possible for local residents and international visitors to avoid the demonstration areas. Traffic in the most parts of Bangkok is also moving normally since all other roads and expressways are not affected by the demonstrations.
All major tourist attractions in the Thai capital, including the Temple of the Emerald Buddha, the Grand Palace and the Temple of Dawn, are open normally. Tourists can visit all attractions using the usual means of transport, including buses, vans and car transfers by tour companies, taxis, the Skytrain, the subway or the boat and ferry service.
Businesses, including banks, petrol and gas stations, hotels, spas, restaurants, entertainment venues, cinemas, convention centres, shopping malls, superstores, convenient stores, pharmacies, hospitals and the like are open and operating as per normal. However, shopping venues in the rally areas may change their opening hours. Telephone both landline and mobile and Internet services are available 24/7 as per normal.
Transportation
All airports in Bangkok and throughout Thailand are open and operating as per normal. Air passengers with flights departing out of Suvarnabhumi and Don Mueang International Airports are advised to allocate at least four hours prior to their scheduled flight departure time and to check the flight status prior to travelling.
For tourists travelling within Bangkok, the available means of transport are as follows:
• The BTS Skytrain runs between Mo Chit and Bearing Stations (Sukhumvit Line), and between the National Stadium and Bang Wa Stations (Silom Line).• The MRT subway runs between Bang Sue and Hua Lamphong Stations.• The Bangkok Mass Transit Authority (BMTA) operates several bus and van services throughout Bangkok. Many bus routes may be adjusted to avoid the protest areas.• Boat and ferry services on Saen Saep Canal and the Chao Phraya River.For tourists with flights arriving in or leaving Bangkok, the available means of transport are as follows:• The Suvarnabhumi Airport Rail Link's SA Express and SA City Line trains run between Suvarnabhumi Airport and Bangkok downtown (Makkasan City Air Terminal and Phayathai Stations). From the two downtown stations, tourists can connect to and from their destinations using the Skytrain or the subway.• The State Railway of Thailand's (SRT) northern train line runs through Don Mueang International Airport station to Hua Lamphong Station.• About 6,000 taxis registered with the Airports of Thailand (AOT) have been given special stickers to show that the vehicles are carrying tourists, thus allowing them to be able to pass normally through intersections occupied by the demonstrators.Elsewhere in the country, all means of transport are operating as per normal, including train services by the SRT and bus and van services by the Transport Co., Ltd.Tourist assistance measures• The Tourist's Friend Centre (TFC) – operated by the Ministry of Tourism and Sports (MoTS) in conjunction with the Tourism Authority of Thailand (TAT) – is open 24 hours a day to offer assistance for tourists.• There are two TFC branches located at Suvarnabhumi International Airport and Don Mueang International Airport.• There are four TFC Help Desks located at the following BTS Skytrain stations: Siam, Phaya Thai, Ekkamai and Sala Daeng.• There are three TFC Shuttle Bus Pick-up Points located at the Jewellery Trade Tower, Windsor Suites Hotel and Twin Towers Hotel. Each location has one bus, two vans and one boat on standby. However, the pick-up locations may change as deemed appropriate by the responsible agencies.• A number of rapid Tourist Police units and 50 volunteers are also on standby to assist tourists who may require travelling through the demonstration areas.• At Suvarnabhumi International Airport, the Airport Operation Centre offers assistance for passengers at check-in counter row R, Departure Hall, 4th floor of the Passenger Terminal. The Airport also deploys a group of facilitation personnel from TAT, ATTA and THA to assist passengers near the AOT Information Counter, Arrival Hall, 2nd floor of the Passenger Terminal.