CityNews – DJ Uan led the Chiang Mai Free Red Shirts attack on the People's Democratic Reform Committee (PDRC) stage during their campaign 'Love Chiang Mai, Love Thailand', in front of Wat Chet Yod, before police intervened on February 16 at 1.30 p.m.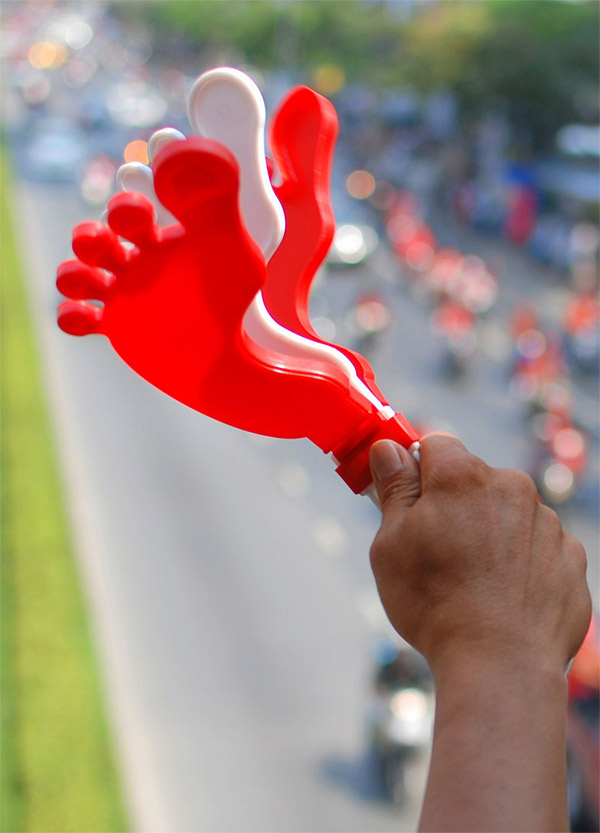 Grit Sripao-raya, the owner of 106.5 MHz radio station, son of Baworn Sripao-raya, Chairman of the Northern Democrat Party, brought together around 50 PDRC members for their campaign 'Love Chiang Mai, Love Thailand" to support Bangkok PDRC.
Apichat Insorn (DJ Uan) brought over 50 Red Shirts, who marched from Chang Puek Gate, armed with 2-by-4s, slingshots and Velvet beans, to disrupt the meeting and disassemble the PDRC stage.
Police Colonel Dundeja Archawasamitrakun, the Chang Puek Police Superintendent, mobilised over 100 officers, both uniformed and undercover, to prevent violence. They led the PDRC members to safety via a temple exit. The Red Shirts destroyed the stage, set vinyl signs on fire, then tossed the stage's metal frames in a nearby canal.
It's reported that DJ Uan and his bodyguards searched the temple to make sure PDRC members were gone and remained outside the temple for some time.
Panupong Weeratantayaporn, PDRC PR manager, told the Daily News that they were warned about a Red Shirt attack and promptly moved away to prevent any injury.
See photos on the Daily News.