When entering Pai Yan Yai its feels like being in Cath Kidston's grandmas house – or what you would imagine it to be like. The place is the visual definition of cozy! A favourite for English teachers and university students, but don't let the cuteness fool you, the coffee served has a kick to it!
Coffee – smooth lattes, strong cappuccinos and a special peppermint latte give you reason to relax here for hours. If coffee is not your thing they have teas and fresh juice to quench your thirst and if you get hungry then you can indulge in their all day breakfast, sandwich style croissant or delicious selection of cakes!
Cafe – The peach walls have delicate stencils on them and the long room is full of comfy sofas and stuffed toys. There are a lot of seats so even when its full you will be able to find a seat. Oh and there's even one old desk that looks ornamental but is in working order and perfect for studying.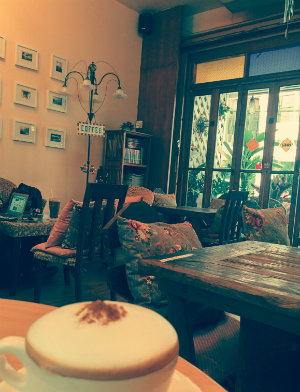 Pai Yan Yai is a great place to take a girl on a first date, not too serious but with a cute atmosphere where you can hang out for a few hours before wandering the soi's of Nimmanhamen together!!
Cost: 50- 80 Baht
Location: On the road that crosses the Nimman soi's – between soi 11 and 13
Open:8:00-20:00 ( closed Wednesdays)