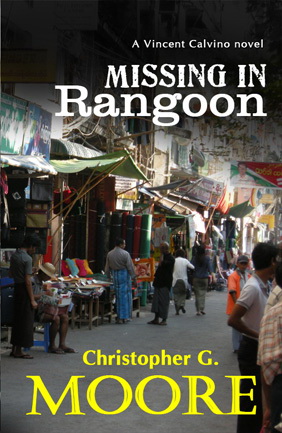 Missing in Rangoon is my new favorite Christopher G. Moore novel – and one of the best hard boiled crime novels in general and Bangkok based noir crime novels in particular that I have read in the past three years. It is the latest (Heaven Lake Press 2013) and #13 in the Vincent Calvino crime series, featuring former American lawyer Vinny Calvino, turned Bangkok private eye.
This tale takes Calvino and his longtime best friend and protector, Bangkok saxophone playing Police Colonel Pratt to Burma/Myanmar in a combination missing person case and amphetamine drug smuggling investigation. There is superb writing from start to finish, with a perfect balance of dialogue and descriptive narrative in the Moore psychoanalytic, literary, existentialist style. It features characters such as a sultry singer nicknamed Black Cat, a Burmese private investigator who doubles as an astrologer, lottery ticket sellers, dream tellers, nightmare makers, an obstinate newspaper publisher, a big-time Thai / Burmese drug lord family feud and my personal favorite, Alan Osborne the father of the son who has gone missing in Rangoon. Settings include a Five Star Hotel with balcony view of the Shwedegon Pogoda, a 1 star flop house, jazz clubs in Rangoon and Bangkok and the real village people of Myanmar.
Most readers of Thailand based crime fiction would agree that the three most read protagonists would be Moore's, VINCENT CALVINO, John Burdett's, SONCHAI JETTLECHEEP and Timothy Hallinan's POKE RAFFERTY series. If you are not familiar with any of these authors do yourself a favor and read all three. If you are familiar with them you will understand when I say, MISSING IN RANGOON is to Moore as BANGKOK 8 is to Burdett and QUEEN OF PATPONG is to Hallinan.
At a time when Burma/Myanmar is opening up, it is a perfect way to learn about Burma's colorful real-life history, complete with George Orwell references, while being entertained by a well-crafted, believable crime story that has details you won't get in your morning newspaper. If you've read Moore before this is an easy call to make. If you never have, start with this one. Missing in Rangoon is a really fun read for crime fiction lovers on a number of levels.
Review by Kevin Cummings of Thailand Footprint – www.peoplethingsliterature.com