First thing you think about when it comes to Korean food is, of course, kimji, followed closely by Korean grill. The ubiquitous Korean style grill has become a fun-food phenomenon in Thailand. While traditionally, Koreans used to cook beef, Thai people have added their own little twists and flavours to the grill mix such as chicken, fish, even meatballs and sausages.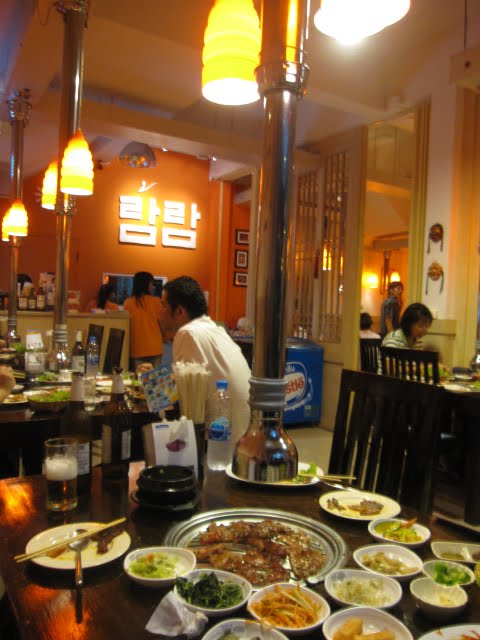 Today I would like to recommend one of the highest quality Korean grills in Chiang Mai. Before we even get to the food, let me address an issue of concern for many people when dining in a DIY-grill restaurant – smell. Many people simply can't stand to walk out of the restaurant with their hair and clothes reeking of smoke and grilled beef (I am not getting at any particular restaurant, so don't get upset) but with this shop, they have invested heavily and even hired men from Korea to come and set the air ventilation system so that the air is fresh and clean throughout the restaurant.
It is simple sciene really. At this restaurant, once the air rises up, it is immediately sucked up into the vents, even with a dozen tables grilling furiously. I still scratch my heads at many restaurants which have the vents under the table!
This restaurant is set in a row of shop-house next to Rimping Ruam Choke's car park. Right next door to the Siam Commercial Bank. They have around ten tables, cool air-con and comfy seating.
Call them at 053 853 481, 0898127342.
The food is simple. Loads of cuts of beef from ribs to sirloin…with the sirloin being the absolute highlight…all tender and lovely. They also have pork for non-beef aeters. Traditional dipping sauces are on offer as well as Thai dips with more chili. Tiny little dishes arrive when you sit there which includes kimchi, bean sprouts, pickled vegetables, garlic, cabbage and more.
We ordered four dishes of sirloin, had two large bottles of beer and the entire bill was just over a thousand baht for three people. So cheap and great food.
For Thai read here