CityNews – A writer, who's been published in The New York Times, The Washington Post, and The Village Voice among other highly-esteemed publications, has written a short piece chronicling his arrival in Chiang Mai. He describes the taxi ride from the Chiang Mai Airport to his hotel as full of bar girls – in fact, "hundreds of girls", which is sure to get Chiang Mai commenters riled up and ready to attack.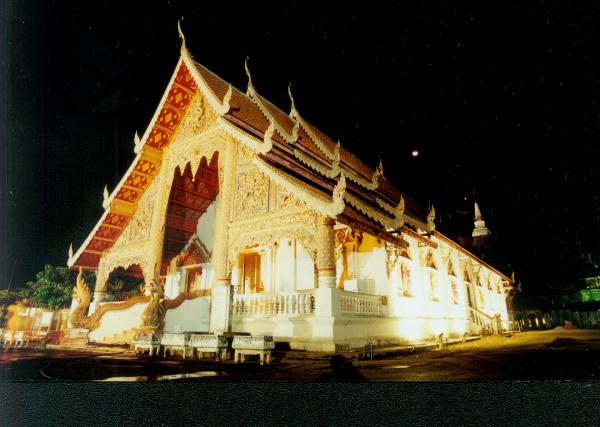 A different sort of nocturnal offering: Wat Phra Singh in Chiang Mai.
Although the piece reads as a personal entry in a traveller's journal, the aggressive comments have already started flooding in, with one commenter saying the writer has never been to Chiang Mai. Another clever commenter agrees and says "I live in Chiang Mai.", which unfortunately doesn't bar the writer from having an opinion about a city.
The writer responded by saying he would stand by his initial impression of Chiang Mai at night, "punctuated by the silhouettes of bargirls". He then goes on to say that there are many wonderful things to see in Chiang Mai, and his most recent post is about the Chiang Mai Arts and Cultural Centre, the Three Kings Monument, and the Chedi on the south side of the Cultural Centre, known as "the city's navel".
You can find his writing on Huffington Post here.