CityNews – Autchara Kemklad wrote an open letter to Chiang Mai Traffic Police after her foreign boyfriend was extorted 500 baht at Jaeng Sriphum traffic stop on April 2nd.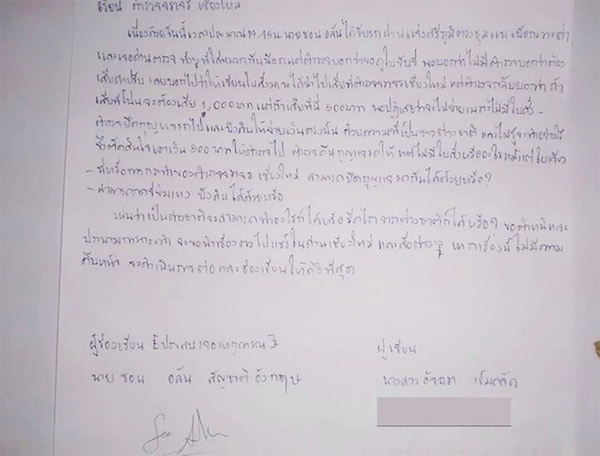 Autchara's letter posted on Facebook
"Around 2:45 p.m. on April 2nd, Séan Allan (a British national) was pulled over near Jaeng Sriphum without having broken any traffic laws. The officer asked for his driver's license, which he didn't have. Séan was told it would be a 1,000 baht fine at the traffic police headquarters or a 500 baht fine if he paid cash right then and there. Séan asked for his 1,000 baht citation ticket but he says the officer responded by taking the key out of his motorbike ignition. Allan had to give the officer 500 baht to get his key back. No citation or receipt was issued by the officer.
-Are you allowed to take the keys?
-This feels like bullying. Can you force us to pay like this.
I feel like this is clear extortion of a foreigner, so I want to put this letter out into the public sphere for people to see. If no one from the police contacts me, I will keep complaining until someone does."
Allan's girlfriend, Autchara Kemklad, a young Thai entrepreneur in Chiang Mai, wrote the complaint letter above and shared it on the following Facebook pages: ?, ?, ?, ?, and on her own Facebook timeline. Within 10 minutes, she received a call from Chiang Mai Traffic Police asking to meet. The letter was shared to many other pages within the next 24 hours, gaining a whopping 91,000 'likes' alone on one official anti-corruption site.
The next day, Pol. Sub. Lt. Suppakit Khankhamtang, deputy traffic inspector and leader of the Sriphum traffic stop unit, met with Autchara. He tried to reimburse the 500 baht fine and asked if she could take the posts down. She told him that she didn't want his money and would rather have people know about police extortion. Autchara eventually accepted the refund under the condition that Pol. Sub. Lt. Suppakit wrote the following note: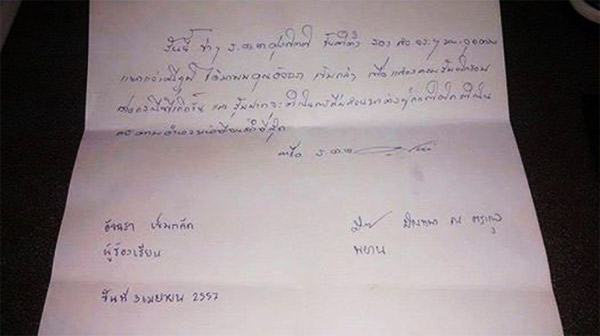 She told CityNews reporters that Pol. Sub. Lt. Suppakit admitted to her that some of his officers were corrupt. He said he had given them many warnings previously. He admitted he simply cannot control them all. The letter states that he is responsible for the whole unit and he also told Autchara that he would find out the identity of the officer that extorted Allan.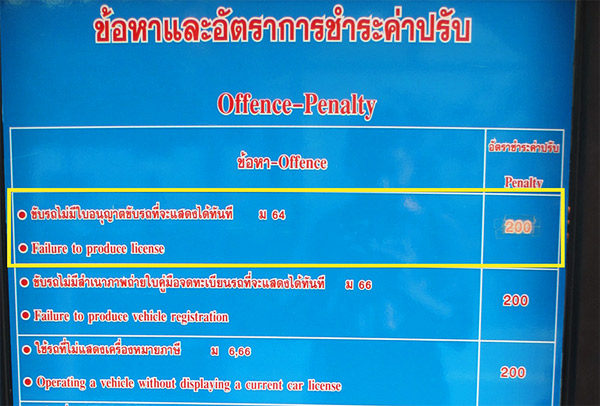 Offence and penalty chart at Chiang Mai Traffic Police Headquarters
Allan told CityNews via Facebook message that he was pulled over because traffic cops know they can take advantage of foreigners. Pulling someone over without probable cause is racial profiling and is morally wrong, he wrote on Facebook.
At 8:20 a.m. today, a CityNews reporter visited Pol. Col. Sitthichai Thananchai, Chiang Mai City Traffic Police Commander, to follow up on last month's interview about Chiang Mai traffic troubles. Commander Sitthichai was aware of the incident. He promised justice for everyone and to find out who the corrupt officer is. Commander Sitthichai then headed to Thapae Gate for a 'No Drink and Drive' campaign at 9 a.m.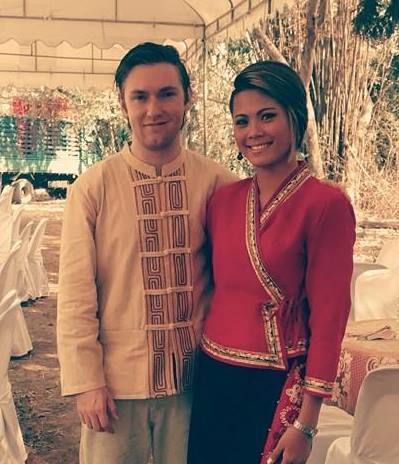 The couple