CityNews – Many organisations in Chiang Mai are discussing ways to reduce weapon possession and alcohol during the religious ceremony 'Walking up Doi Suthep', which took place on Visakha Bucha Day on 13th May.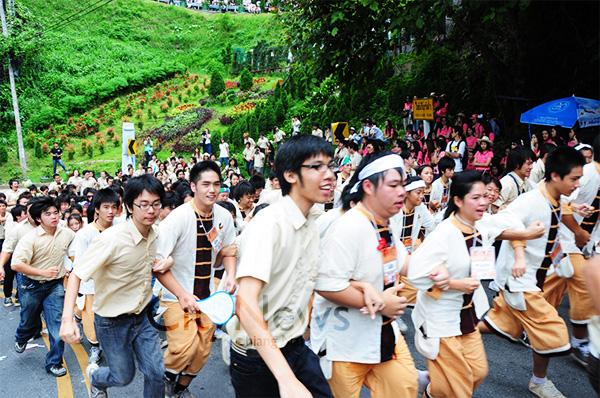 People participating in the ceremony a few years ago.
Khajornpolkrit Chansang represented the networks involved during the ceremony of 'Walking Up Doi Suthep' and identified the main problems. He identified that in the past some people who attended the ceremony had brought inappropriate items such as cans, cutlasses, knives, knuckle-dusters and alcohol to the ceremony. Crowds also discarded garbage along the road.
The organisations involved, including the National Parks Office, Bhubing Police Station, Public Health Office of Chiang Mai, Alcohol and Drug Network, Stop Drink Organisation, Youth Network and Chiang Mai Greencity will share their ideas and provide their input on how to coordinate and manage the ceremony successfully. They will also set up a checkpoint to help reduce the alcohol, drug and weapon problems during the next ceremony in 2015.
There will be three alcohol checkpoints: in front of Chiang Mai University, in front of Rajamangala University of Technology Lanna and a Huay Kaew checkpoint.