CityNews – A video that showed up on social media on October 11th is one more video in a recent collection that depicts a darker side of Thailand.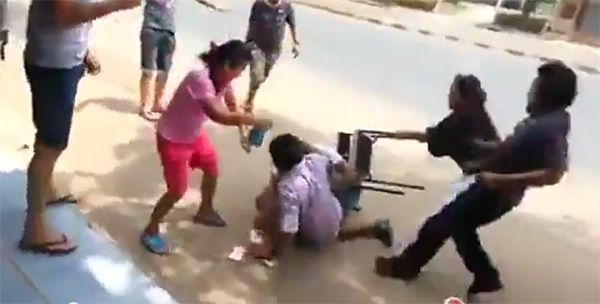 Thais and westerners alike have criticized what happens in this video, where a couple are beaten with fists, feet, signs and chairs.
Khaosod news reported that the victims were a Bahraini couple travelling in Surat Thani on honeymoon.
It's not clear exactly what happened, or how the fight broke out, but as you can see in the video a lot of people joined in. It's said by some netizens that the incident occurred when the couple wouldn't pay a fare because it was too high. When they refused, a gang of locals set on them.
The clip has garnered a lot of negative attention, most of it saying Thailand is dangerous, or that tourists are always being ripped off. Unsurprisingly many of the comments were impolite generalizations and insults.
But Surat Thani Pol.Col. Suwat Suksri told Khaosod that the incident had nothing to with tourists being overcharged, but because a Bahraini man became jealous when another man talked to his new wife on 7th April this year. Police arrested six people at the time, three Thais and three locals. They were all charged 200 baht for fighting, but each of the tourists it was reported was charged an extra 5,000 baht for property damage.