CityNews – On April 1st, a video was released on Facebook of a dog panting and gasping for air through the crack of a partially open car window. The dog had been locked in the car by its owner in the middle of one of Chiang Mai's hottest days.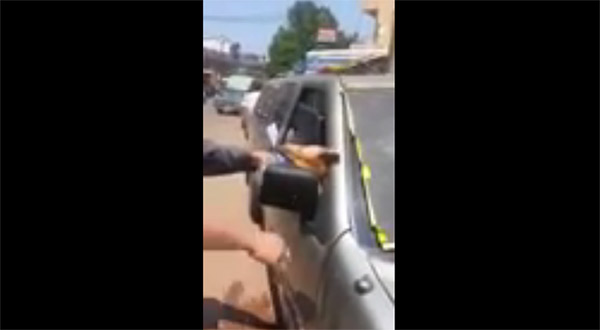 Passersby giving the dog water
The one-minute video was shared on Facebook by user Nice's Pumkin. She claims that she and her parents saw the car parked outside a hospital in Uttaradit. Passersby tried to help the dog by giving it water; however, while trying to drink the water, the dog bit his tongue, causing him to bleed profusely.
"My parents and I discovered that the dog had been inside the car for about 3-4 hours. The dog appeared thirsty and was clearly in pain. The weather was about 40°C at the time. The dog bit his tongue because it got its head stuck in the window and struggled to breathe," Nice's Pumkin wrote.
The video caused quite the uproar on social media, with many viewers commenting about the need for people to be more aware of their pets in such severe weather. Certainly, we must all take precautions to ensure the safety of ourselves and our pets during this intensely hot season.
For story in Thai, visit Sanook News
See the clip on YouTube [Graphic Warning!]