UPDATE August 23rd
We now know that the audience will consists of about 500 people.
There are also two satellite venues confirmed in Chiang Mai.
Live streaming is confirmed (nationwide).
TCDC (Thailand Creative and Design Center) are considering putting on a satellite event in Chiang Mai and Bangkok.
There will be a pre-event (100 people) get-together with the president of TCEB (Thailand Convention and Exhibition Bureau) at the Ping Nakara Hotel.
The post-event will take place at the Sala Lanna and Meeting Room Art Café (100-200 people)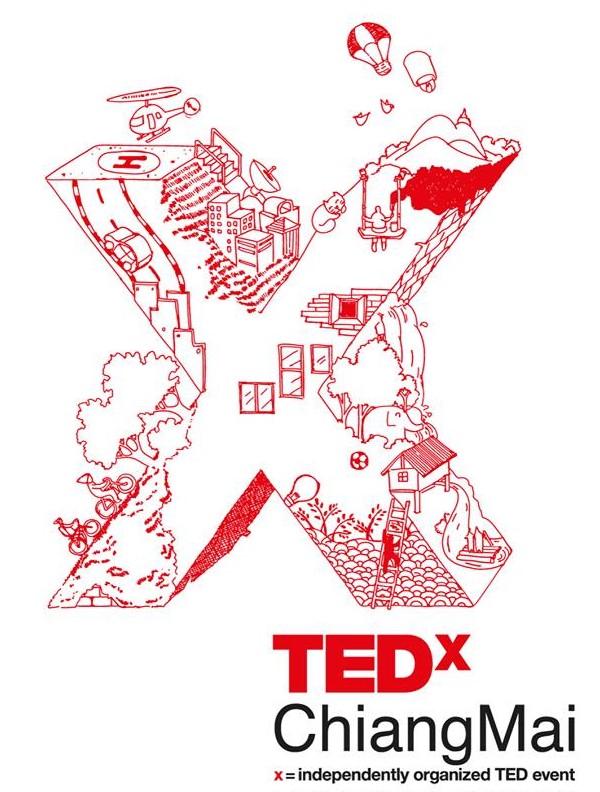 Take a deep dive into idea and creativity at "TEDxChiangMai 2013". This international creativity forum will be held at the Le Meridien Chiang Mai on 14 September 2013. Themed "Smart Societies", it will be the biggest creativity and idea forum in Thailand with over 20 Thai and international speakers and artists.
Sometimes likened to a "spa treatment for the brain and soul", a TEDx event is a creativity and idea forum mixed with entertainment, workshops and other interactive activities to help people connect and put ideas into action. TEDx events have become a global phenomenon with events in cities such as Sydney, Singapore, Taiwan, Shanghai and Berlin, attracting hundreds, sometimes thousands, of audience members. TEDx events are independently organized TED style eventsunder license from TED (www.ted.com).
Confirmed speakers include Duangrit Bunnag, Architect; Boaz Zipper, Poet and Photographer; Amarit Charoenphan, Co-Founder of Hubba Coworking Space; Gordon Falconer, Director IBSG Smart Cities Solutions, CISCO; Dr Thammarat Kottatep, AIT Researcher; Krating Poonpol, Founder of Disrupt University; Dr Sirikul Laukaikul, Brand Consultant; Somluk Pantipun, Artist and Designer; Dr Thomas Tilley, Lecturer at Payap University, Sali Sasaki, Editor at CRAFTED, Designer, Writer, Researcher at Cities x Design; Dr Surat Tanprawate, Neurologist at Chiang Mai University; Supawut Boonmahathanakorn; Co-founder of Kon Jai Baan, Ruttikorn Vuttikorn, Product Designer and Educational Game Maker; Dr Wiriyah Ruechaipanit, CEO Eduzones; Tasana Nagavajara, Violinist; and Patipat Susumpow, Co-founder of Opendream.
Several of these speakers are from Chiang Mai, but a special feature of TEDxChiangMai is dedicated to the future of education and will also include 3-5 talks by school and university students from Chiang Mai – giving them an opportunity to share their ideas with local and global audience. Selected through several local auditions, the names of the students will be announced later in August.
For more information, please visit www.tedxchiangmai.com. Tickets are available at www.amiando.com/tedxchiangmai. Tickets included access to the event, snacks, tea, coffee, drinks, gifts, printed programme, and access to the post-event party/reception in the evening. The event is on 14 September 2013 at Le Meridien Chiang Mai, from 8:45 am-6pm followed by a post event party. Special hotel room rates are available at different hotels for visitors from Bangkok, the rest of Thailand or abroad.
This non-profit event is entirely based on voluntary resources and sponsorship. TEDxChiangMai is supported by various organisations but the organizer still welcome additional sponsors and partners, including media partners. http://www.tedxchiangmai.com/sponsor.php
Contacts:
Jirawan WongdokmaiChiang Mai Creative City CoordinatorSecretariat of the Chiang Mai Creative City Development CommitteeScience and Technology Park, Chiang Mai University (CMU STeP)Email: jirawan@step.cmu.ac.thTelephone: 081 969 69193
Martin Venzky-StallingTEDxChiangMai License Holder and CuratorSenior Advisor, Science & Technology Park, Chiang Mai University (CMU STeP)Member of Chiang Mai Creative City Development CommitteeEmail: martin@creativechiangmai.com
About TED and TEDx
TED is a non-profit organization devoted to Ideas Worth Spreading. TED started as a four-day conference in California in 1984 bringing together people from three worlds: Technology,Entertainment and Design. Since then its scope has become ever broader, especially with the launch of its TEDx Program (x=independently-organized TEDx event) which aims to bring communities, organizations and individuals together to stimulate dialogue and catalyse ideas through a TED-like experience at the local level. Thai speakers at previous TEDx events include Dr. Khunying Kalaya Sophonpanich, Khun Mechai Viravaidya, Khun Aprirak Kosayodhin, Khun Suphachai Chearavanont, furniture designer Khun Eggarat Wongcharit, Dr Arnant Sipitakiat from CMU (MIT Graduate, Lecturer at CMU), Khun Prasert Eamrungroj (Black Sheep, Brand Connections), Dr. Weerapong Prasongchean (STEMKids), Jon Jandai (Pun Pun Organics), Khun Sorakon Adulyanon (Matichon), Zcongklod Bangyikhan (a day magazine), other researchers from universities, entrepreneurs, technologists, designers, artists and journalists.
TED's mission is underpinned by a passionate belief in the power of ideas to change attitudes, lives, cities, and, ultimately, the world. TEDxChiangMai will provide a local and global platform in the spirit of TED's "Ideas Worth Spreading". In local scope it will further develop Chiang Mai's creative economy and support the Chiang Mai Creative City initiative. Taking things to a global level, the event will be broadcast live on the Internet, and all talks will be recorded at high-quality and uploaded to TEDx's YouTube channel which has attracter over 80 million viewers in the past 4 years. TED has grown to support those world-changing ideas with multiple initiatives. The annual TED Conference invites the world's leading thinkers and doers to speak for 18 minutes. Their talks are then made available, free, at TED.com. TED speakers have included Bill Gates, Al Gore, Jane Goodall, Elizabeth Gilbert, Sir Richard Branson, Nandan Nilekani, Philippe Starck, Ngozi Okonjo-Iweala, Isabel Allende and UK Prime Minister Gordon Brown. The annual TED Conference takes place on the West Coast, with simulcast nearby; TEDGlobal is held each year in Edinburgh, UK. TED's media initiatives include TED.com, where new TEDTalks are posted daily, and the Open Translation Project, which provides subtitles and interactive transcripts as well as the ability for any TEDTalk to be translated by volunteers worldwide. TED has established the annual TED Prize, where exceptional individuals with a wish to change the world are given the opportunity to put their wishes into action; TEDx, which offers individuals or groups a way to organize local, independent TED-like events around the world; and the TEDFellows program, helping world-changing innovators from around the globe to become part of the TED community and, with its help, amplify the impact of their remarkable projects and activities.Follow TED on Twitter at twitter.com/TEDTalks and on Facebook at facebook.com/TED.For information about TED's upcoming conferences, visit http://www.ted.com/registration
About TEDx, x = independently organized event
In the spirit of ideas worth spreading, TEDx is a program of self-organized events that bring people together to share a TED-like experience. At a TEDx event, TEDTalks video and live speakers combine to spark discussions. These self-organized events are branded TEDx, where x = independently organized TED event. The TED Conference provides general guidance for the TEDx program, but individual TEDx events are self-organized. (Subject to certain rules and regulations.) About TEDx Videohttp://youtu.be/_kEXNJ9sfc045



2 ? 2556 "TEDxChiangMai"? ? "TEDxChiangMai 2013" ? ? ? ? ? 14 ? 2556 ? ? ? ? "Smart Societies" (? ?) ? ? ? ? ? ? ? ? ? ? ? ? 20 ? ? TEDx ? ? ? ? ? ? ? ? ? ? ? ? ? ? ? ? ? ? ? ? ? ? ? ? ? ? ? ? ? ? TEDx ? "? ? ?" ? ? TEDx ? ? ? ? ? ? ? ? ? ? ? ? ? ? ? TEDx ? TED ? ? ? TEDxChiangMai ? ? ? ?, ? ? ? ? ?, ? ? ? Hubba Coworking Space, ? ? ? ? IBSG Smart Cities Solutions ? CISCO, ?.? ? ? AIT, ? ? ? Disrupt University, ?.? ? ? ? ?, ? ? ? ?, ?.? ? ?, ? ? ? CRAFTED ? ? ? Cities x Design, ?.? ? ? ? ? ?, ? ? ? ? '? ?', ? ? ? ? ?, ? ? ? ? ? Eduzones, ? ? ? ? ? ? ? ? ? ? ? Opendream? TEDxChiangMai ? ? ? ? ? ? ? ? ? ? ? 3-5 ? ? ? ? ? ? ? ? ? ? ? ? ? ? ? ? ? ? ? www.tedxchiangmai.com ? ? ? ?www.amiando.com/tedxchiangmai ? ? ? ? ? ? ? ? ? ? ? ? ? ? ? ? ? ? ? ? ? ? ? ? ?14 ? 2556 ? ? ? ? ? ? ? 8:45 ?. ? 6:00 ?. ? ? ? ? ? ? TEDxChiangMai ? ? ? ? ? ? ? ? ? ? ? ? ? ? ? ? ? ? ? ? ? ? ? ?http://www.tedxchiangmai.com/sponsor.php6? ?:? ? ? ? ? ? ? ? ? ? ? ? ? ? ? (SteP) ?: jirawan@step.cmu.ac.th?:? 081 969 6919? ?-? (Martin Venzky-Stalling)? TEDxChiangMai? ? ? ? ?: martin@creativechiangmai.com TED ? TEDxTED ? ? ? 2527 TED ? ? ? ? ? 3 ? ? ? ? ? ? ? ? ? TEDx (x ? TED ?) ? ? ? ? ? ? ? ? ? ? ? ? ? ? ? ? TED ? ? TEDx ? ? ? ? ?.? ? ? ?, ? ? ? ? ? , ? ?, ? ? ? ?, ? ? ? ?, ?.? ? ? ? ? ? (? MIT ? ? ?)? , ? ? (? ? ?, ? ? ? ? ? ), ?.? ? (STEMKids), ? ? (?), ? ? (?), ? ? (a day magazine) ? ? ? ? ? ? ? ? ? ? ? ? TED ? ? ? ? ? ? ? ? ? ? ? ? ? ? ? TEDxChiangMai ? ? ? ? ? ? ? "? (Ideas Worth Spreading)" ? TED ? ? TEDxChiangMai ? ? ? ? ? ? ? ? ? ? TEDxChiangMai ? ? ? ? ? ? ? ? YouTube ? TEDx ? 80 ? 4 ? ? TED ? ? ? ? ? ? ? ? ? ? ? ? 18 ? ? ? TED.com ? ? ? ? ? ? ? ? ? TED ? ? Bill Gates, Al Gore, Jane Goodall, Elizabeth Gilbert, Sir Richard Branson, Nandan Nilekani, Philippe Starck, Ngozi Okonjo-Iweala, Isabel Allende ? Gordon Brown? TED Conferences ? ? ? ? ? (? ? ? ?) ? ? TEDGlobal ? ? ? ? ? ? ? ?(? ? ? ? ? ?) ? TED ? ? ? ? ? TED ? ?TED.com, ? Open Translation project ? ? ? ?, ? TED Prize ? ? ? ? 1 ? ? ? ? ? ? ? ? ? ? ?, ? TEDx ? ? ?7? TED ? ? ? TED Fellows ? ? ? ? ? ? ? ? ? ? ? ? TED? TED ? ? twitter.com/TEDTalks ? facebook.com/TED? ? ? ? ? ? TED ? ? ? http://www.ted.com/registration? TEDxTEDx ? ? ? ? ? ? ? ? ? "? (Ideas Worth Spreading)" ? TEDx ? ? ? ? ? ? ? ? ? ? ? ? ? ? ? ? ? ? ? ? TED ? ? ? ? ? TED ? TEDx ? ? ? ? ? ? ? ? ? ? ? ? ? TEDxx ? TED ? ? TED Conference ? ? ? ?TEDx ? TEDx ? ? ? (? ? ? ? TED Conference) ? ? ? TEDx ? http://youtu.be/_kEXNJ9sfc0