CityNews – On 13th June, around 4.20 p.m. a motorcycle accident in front of the Ricoh Company on Mahidol Road, not far from Central Plaza Chiang Mai Airport, resulted in the death of a young man and a young woman.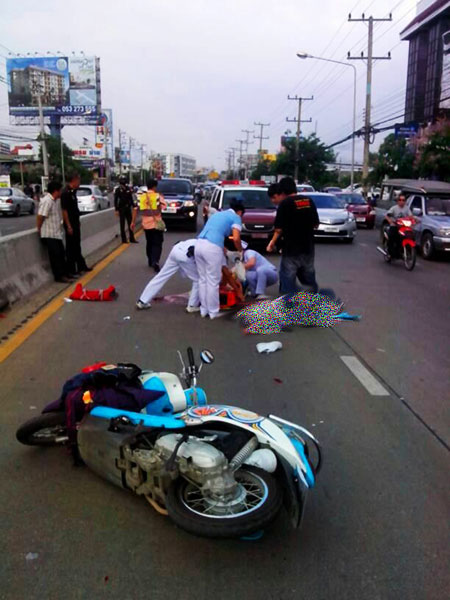 The scene of the accident
Police with a medical team and a rescue team arrived at the scene of the crash to find a motorcycle lying in the road and three bodies close to the bike. The casualties were immediately recognizable as students of Varee School. Asapong Macharoensab (16), male, was pronounced dead at the scene, and two females were said to be in a critical condition.
Police say it was obvious that the bike had been hit by a car from behind, and the initial investigation revealed that the car had run over the bodies of the students. The driver fled the scene.
One of the girls, Sujira Thammachai, later died in hospital. The third girl, name unknown, is being treated for her injuries.
CityNews – วันที่ 13 มิถุนายนประมาณ 4.20 น. อุบัติเหตุรถจักรยานยนต์หน้า บริษัท Ricoh บนถนนมหิดลซึ่งอยู่ไม่ไกลจากเซ็นทรัลพลาซาสนามบินเชียงใหม่ส่งผลให้ชายหนุ่มและหญิงสาวเสียชีวิต
ฉากของอุบัติเหตุ
ตำรวจกับทีมแพทย์และทีมกู้ภัยมาถึงที่เกิดเหตุเพื่อพบมอเตอร์ไซค์ที่วางอยู่บนถนนและศพสามศพอยู่ใกล้กับมอเตอร์ไซค์ การบาดเจ็บล้มตายได้รับการยอมรับในทันทีในฐานะนักเรียนของโรงเรียนวารี Asapong Macharoensab (16) ผู้ชายตายในที่เกิดเหตุและมีผู้หญิงสองคนถูกกล่าวว่าอยู่ในสภาพวิกฤติ
ตำรวจบอกว่าเห็นได้ชัดว่ารถคันนั้นถูกรถชนจากด้านหลังและจากการสอบสวนเบื้องต้นพบว่ารถวิ่งไปตามร่างกายของนักเรียน คนขับหนีฉาก
หนึ่งในเด็กผู้หญิงคือสุจิราธรรมชัยต่อมาเสียชีวิตในโรงพยาบาล เด็กหญิงคนที่สามชื่อไม่ทราบกำลังได้รับการบาดเจ็บ
CM108.com https://www.facebook.com/chiangmai108
Photo from CM108