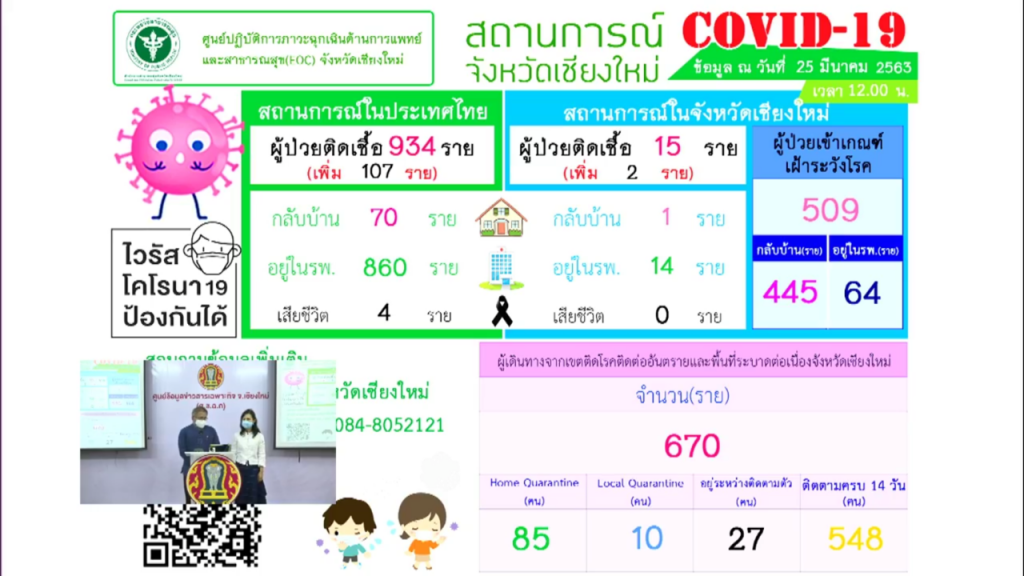 CityNews – 25th March 2020, at the daily briefing at the provincial hall, Dr. Worachet Taesarak, the director of Nakornping Hospital, revealed that across Thailand there were 107 more cases today with two being found in Chiang Mai. In total Chiang Mai has confirmed 15 cases of COVID-19 patients, with 14 currently under observation at hospitals and one having gone home.
As to the two new cases, one is a 23 year old man from Hang Dong who returned from Bangkok on the 18th on AirAsia flight FD-3431. Upon arrival his mother picked him up and they drove straight to Hang Dong hospital (he had been in Bangkok since the 11th). Following his checkup at hospital he was found not to have any symptoms and sent home to be quarantined.  By the 23rd, his symptoms had worsened and he was taken to hospital where he was diagnosed. His football friends and party friends in Bangkok as well as passengers on the flight and staff at Hang Dong hospital are being closely monitored, as is his family.
The second new case is a 40 year old woman who is a DJ at two bars along Chiang Mai Land. She has had symptoms since the 17th, when she self quarantined until she fell too ill and had to go to hospital on the 19th. She has had contact with tourists and expatriates. Her lab results were just returned yesterday. She is believed to have had low exposure to anyone as her DJ station is on a floor with few people. Her four colleagues are being sought after by the authorities.
Ladda Saeli, a representative of the Chiang Mai Social Security Office was also at the meeting and said that those who have social security are asked not to present themselves at hospital unless they have fever and other signs of sickness so as not to overcrowd hospitals. If they are discovered to have the virus they should rest assured, she said, that all hospital expenses as well as loss of income will be covered.
Today over 2,000 people went to the Social Security Office to ask for financial relief over this period. Ladda asks that everyone stay home and use the department's QR-CODE or call the hotline 1506 for details.