CityNews – Two foreigners, a French national and a Korean national, were both discovered dead in Chiang Mai on March 19th.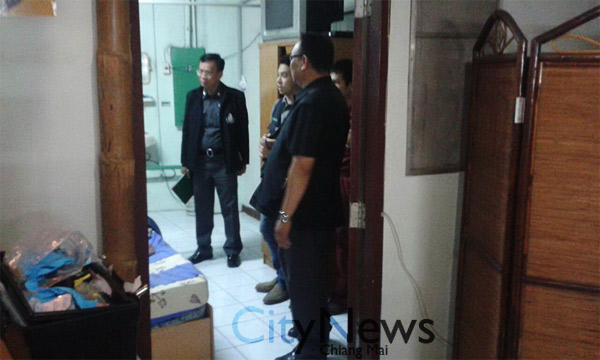 Police and medical staff at the house in Mae Hia.
At 5:20 pm on March 19th, Chiang Mai Police Department (CMPD) received a call concerning a dead French man found at Café de Paris Guesthouse, Taiwang Road, Tambon Chang Moi. They notified a medical examiner from Maharaj Hospital to come and perform an initial autopsy at the scene. They found the body of Sebastien Sergi (42) on a bed at the guesthouse. There was no sign of external injuries. The officials have said after the initial autopsy that the man likely died from natural causes. The official cause of death will be announced after they have a complete autopsy report.
On the same day, at a home in Seewalee Ratchapruek Village in Mae Hia, police were called to a house to discover the body of Dae Se Yong (57), a South Korean national, who was the homeowner. An initial autopsy revealed that the man also likely died from natural causes.