CityNews –On Tuesday, 13th May, Pol.Lt. Precha Yamjalearn, Khlongkhlung police station was informed about an accident where a car had crashed into a motorcycle. The police and rescue team found two elderly men at the scene of the crash – one of whom had already died.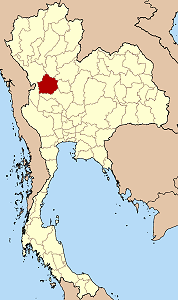 The accident took place on the Phahonyothin road (km 407-408)and the officials found the car had a dent on the left front of the vehicle. The motorcycle was lying on the road close to the car, where Amnouy Anantasut (59) was pronounced dead at the scene, and Pratum Meunjaiman (59) was sent to hospital. Sadly, he passed away shortly after his arrival.
The investigation concluded that the two elderly men were driving to a relatives' home when they were crashed into by the car. One unknown occupant of the car died, while the driver survived the crash.
For photos and story in Thai, visit the Manager.