CityNews – Ricky Ward, vocal Chiang Mai activist and environmentalist contacted CityNews a day after the Chiang Mai Water Summit ended. The outspoken critic of myriad government initiatives to protect and conserve Chiang Mai's forests and rivers was not enthralled by the latest pledges issued by government leaders.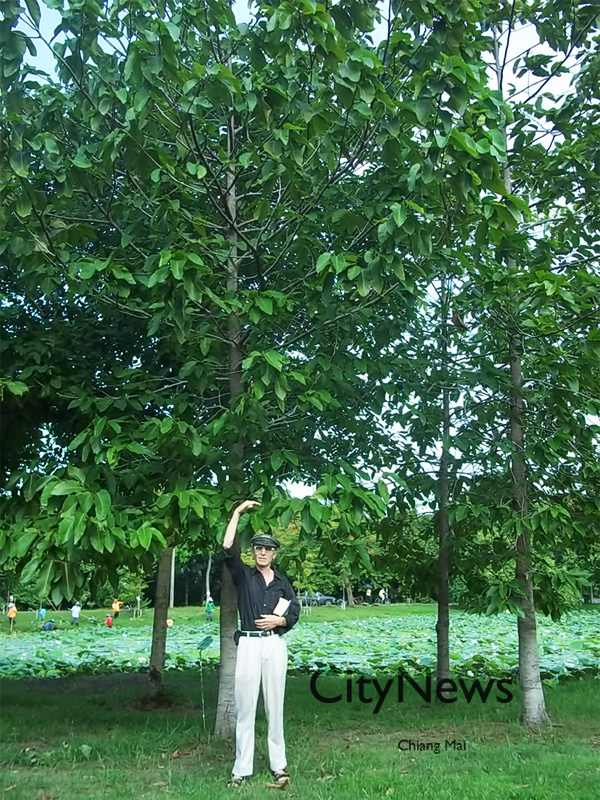 Ricky Ward with one of his beloved trees
Ward wrote in an email to CityNews:
"The 2013 Water Circus has ended and produced yet another Chiang Mai Declaration. Four years ago this much more thoughtful version came from the World Council of Churches:
In 2009 there was the Chiang Mai Urban Forests Declaration. The year 2004 also had a Chiang Mai Declaration on the rights of women. Back in 1988 Medicinal Plants was the theme.
The 1988 declaration pointed to the need to conserve forests but the latest 2013 declaration makes no mention of forests.
And yet along the roadsides in the northern hills of Thailand we see signs together:
"With Forests we have Water" and "With Water we have Life".

The Summit was also billed as paying tribute to HM King Bumipol's contribution to the field of water conservation which in 2012 included his advising the Prime Minister to plant millions of forest trees in degraded areas to reduce the impact of storms and floods.
The architect of the summit was the once long time Director General of the Royal Forests Department and now Deputy Prime Minister, Dr Plodprasop Suraswadi, who at one time when his position was under threat was saved by the very public intervention of HM Queen Sirikit. Dr Plodprasop famously said he would be willing to die for the Queen and vowed never allow dams to be constructed in the forests under his protection unless there was a Royal Initiative to do so.
How things have changed. Now instead of promoting dams the King, certainly in the view of Thailand's nature conservation community most wisely, advocates forest restoration while the former forest protector pushes his 300 billion baht scheme of dams and forest destruction."