CityNews – The government warnings on cigarette packets should be enough to put any smoker off, depicting the disaster of smoking in all its gory and depressing detail, but the Ministry of Public Health will make the images even bigger come December 31, 2013.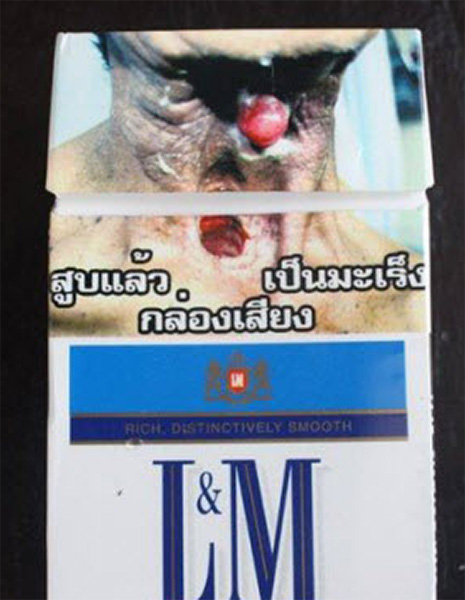 Distinctly smooth
It was reported in the National New Bureau of Thailand that The Thai Tobacco Trade Association (TTTA) "is preparing to submit a petition to the Administrative Court regarding the Ministry of Public Health's regulation to enlarge warning labels on tobacco containers from the current 55% to 85%." If the TTTA can't halt the move Thailand will become the world leaders in terms of picture size, leaping over Australia whose pictures are 82.5% of the packet. Thailand only started putting anti-smoking pictures on the packets in 2005, when it became the fourth country to do so. Presently 63 countries have the 'shock' warnings.
It's that over 1,400 retailers of cigarette are against the move, according to TTTA Executive Director Varaporn Namatra. Varaporn says the move is "unconstitutional" as it doesn't take the stakeholders opinion into account. She also said that Thailand's visual warnings are already amongst the largest in the world, adding that the enlarged pictures would affect retailers all over the country.
The World Health Organization (WHO) has said that hard-hitting campaigns that include explicit pictures of diseased lungs helps, especially in preventing young people from taking up the habit, though it is not as effective in compelling smokers to quit.