CityNews – The British Embassy, British Council and Thai Ministry for Education partner have launched the Thailand English Teaching Project 2013.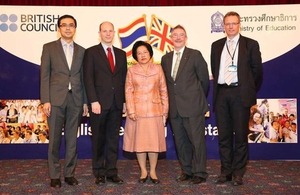 Paul Bute, Chargé d'Affaires at the British Embassy, launched the "Thailand English Teaching Project 2013" together with British Council Thailand Director, Chris Gibson, and Chief Inspector General at the Thailand Ministry of Education, Churairat Sangboonnum.
The event welcomed 200 language assistants from the UK to teach at schools throughout Thailand.
The TET (Thailand English Teaching) Project is the fastest growing language assistant scheme in the world. In 2012 Thailand welcomed 65 UK undergraduates. This year the number of assistants is three times as many, and it is likely that this number will only grow in years to come. The scheme is popular with UK universities and students, as well as schools in Thailand where the race is on to match the English skills of other countries in ASEAN before AEC launches in 2015.
The project was discussed between the Thai Prime Minister, Yingluck Shinawatra, and the UK Prime Minister, David Cameron, in their meeting at Number 10 Downing Street in November 2012, and during the subsequent high-level strategic dialogue held between Thailand and the UK's Foreign Ministries earlier this year.
Chargé d'Affaires Paul Bute said:
The benefits of this project are not just one way. There is real mutual benefit for both Thailand and the UK: The pupils in these schools will have, maybe for the first time in their lives, the chance to speak and listen to a young person whose first language is English. The English Teaching Assistants will in return have the opportunity to live in Thai communities, gaining valuable international experience. And Thailand as a whole benefits. Thailand's competitiveness in ASEAN and in the Economic Community is very much linked to its ability to teach its citizens English.
Find out more about the project, visit British Council website