CityNews – Netiwit Chotipaisarn, aka Frank, a high school student who was in the media a few weeks ago stating he was "Sick of Thainess" and oppressive school rules, has once again awoken the ire of Thai traditionalists while also becoming heroic in the eyes of certain progressives. This time he criticised the education system for its hard-line enforcement of Buddhism in Thai schools.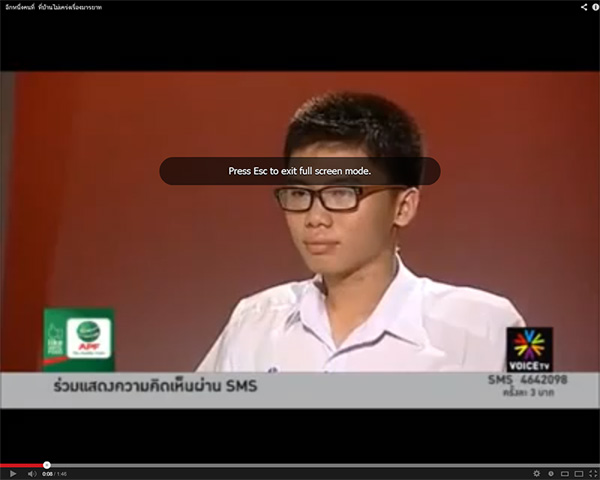 Netiwit Chotipaisarn on Thai Television talking about Thainess
Netiwit, who lately had his school presidency title revoked even though he was by far the most popular candidate when he won the election, told Thai news service Khaosod that, "Religion is an individual matter, so it doesn't matter what you believe in. If they ask me to pray, I don't because I think it is unnecessary. It doesn't make students or people understand the core of Buddhism, only the ceremonies and faith related to seeking money."
It is likely that when he says 'seeking money' the student is referring to the practice of merit making in the hope of some kind of financial reward.
"Buddhism in school is nonsense," he went on. "It causes students to be afraid of facing the truth and thinking differently. Monks always frighten people by telling old stories. Buddhism should not be taught in school any more. They should teach international religions. Let students be free to criticise, and select what they want to believe."
Here are some of the (translated) comments left on social media referring to Netiwit's stance on religion taught in school:
"I want school to change the ethics class into an international ethics class. Also learn about social manners all over the world so that people with different religions can live together."
"I remember when I was punished when I was in school. I refused to say the prayers. The teacher beat me in front of all the students. Believe me, it is an enforcement."
"The way of belief in this country is enforcement. Kids are forced to be Buddhist since they are born. But they never practice the Lord Buddha's teaching."
"Those who don't want Buddhism, which is the national religion, should be kicked out of the country."
"He shouldn't have been born Thai."
"Idiot, don't let me see your face. I will kick your dumb arse. I am Buddhist. What are you? Burmese?"
"You shouldn't be allowed to stay in this Buddhist country."
"Hell sent him to be born in Thailand. WTH."