CityNews – The Ministry of Science and Technology has just launched a new glass coating machine, invented by a Thai scientist.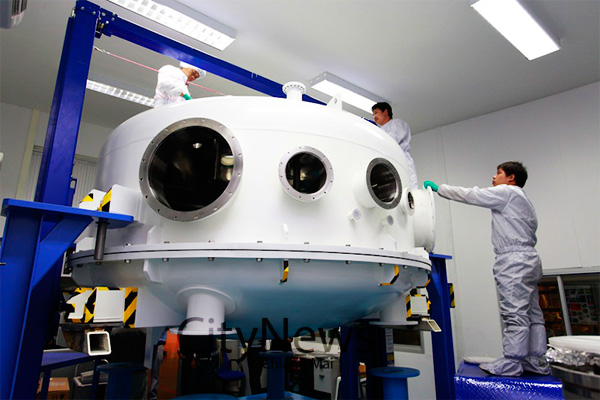 The project was coordinated by the National Astronomical Research Institute of Thailand and Synchrotron Light Research Institute in order to maintain the 2.4 metre telescope at Inthanon Observatory. The machine is expected to be put to use in late 2013.
Dr. Sarun Posayajinda, the deputy director of the National Astronomical Research Institute of Thailand, revealed that the telescope is 2.4 metres in diameter, the largest in Southeast Asia. The glass of the telescope is coated with aluminium, which will deteriorate after frequent use of the telescope. Because of this, the machine needs to be re-coated every two years. Being of such a large size and made with fine material, the machine would cost over 35 million baht to purchase.
Samroeng Duangnin, the assistant director of Engineering Development at the Synchrotron Light Research Institute told the press that the glass coating machine operates in a vacuum system, coated with a material called Magnetron Sputtering. This smooths and controls the thickness of the metal, providing light reflexion. The machine can coat metals such as gold, copper, and silica.
Sarawut Sujittakorn, the director of the Synchrotron Light Research Institute, explained how experienced mechanics were needed to design and create the glass coating machine. For over 10 years, the institute has proudly developed vacuum equipment to support government and private organisations, and this invention will only add to their achievements.
?.? ? ?
? ? ? ?(?) (?.) ? ?) (?.) ? 2.4 ? ? ? ? ?
?.? ? ? ? "? ? ? 7 ? ? ? ? ? ? 2.4 ? ? ? ? ? ? ? ? ? ? ? ? 2 ? ? ? 2.4 ? ? 35 ? ?. ? ?. ? ? ? 2.4 ? ? ?"
? ? ? ? ? "? ? Magnetron Sputtering ? ? ? ? ? ? ?"
?.?.?.?. ? ? ? ? "? ? ? ? ? ?. ? ? ? ? ? ? 80 ? ? ? 2556 ?"