CityNews – A radio presenter for Phuket Island Radio died in the early hours of Sunday, 12th January 2014, from a collision between his motorbike and an airport taxi. Two other unrelated crashes also happened recently in Thailand, with another in Phuket and one more in Pattaya.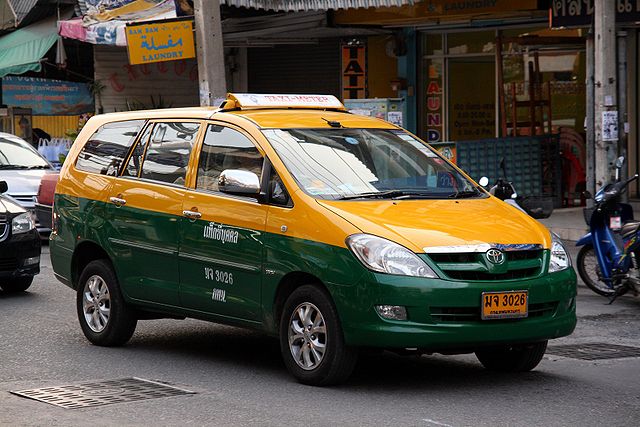 A Thai metered airport taxi.
Paul Norris, the 45-year-old Stirling, England native, had been riding home on his motorbike when his vehicle and a taxi crashed into one another. It was reported that the fatal accident happened in the Chalong area at around 2 a.m. The Thai police are still investigating the cause of the accident.
A separate accident occurred in Phuket when a 21-year-old Thai man named Robert Marano died in a collision between his motorbike and a van, in the Thung Thong district. The crash took place on 29th December at around 5 a.m. Police believe Mr. Marano was speeding and lost control, crashing into the van which was driving in the opposite direction.
Another motorbike driver was killed in Pattaya on Friday, 10th January at 11:30 p.m. The deceased, a 43-year-old Thai man named Khun Kiton, had rear-ended another motorbike being driven by a 35-year-old Thai woman who had slowed to turn into a right-hand lane without indicating her intentions. Both drivers fell onto the busy road, but sadly Khun Kiton was almost immediately run over by a speeding coach. He died instantly from a crushed skull. The coach driver later turned himself in at a police station and is now being charged with manslaughter due to reckless driving.
Just recently, we reported the results road accidents over the 7-day holiday period in Chiang Mai only. In the whole of Thailand, 366 people died and 3,345 were injured over the same period. Chiang Mai was the second-most dangerous region for road accidents, after Nakhon Sawan with 21 deaths and 127 injuries.