CityNews – Thai monks are often in the news for all the manner of transgressions not related to the path to nirvana, such as selling 'crazy pills' or inveigling young women into bed. This time a couple of the clergy have been spotted on YouTube looking more film stars than austere men of the cloth.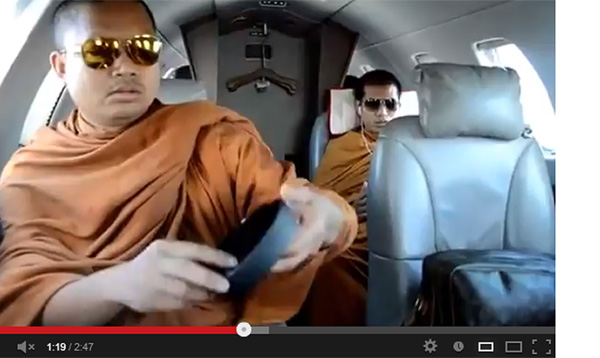 Taken from YouTube
The monks were seen on YouTube laying back in a private jet, listening to their headphones, eyes covered with sunglasses, while one of them was travelling with a Louis Vuitton bag.
The film has been seen by more than 200,000 people via YouTube and so has not surprisingly struck a nerve with the Thai government and the clergy who have publicly stated that such behavior is very undesirable.
Nopparat Benjawattantnun, director of the National Office of Buddhism, said that one of the monks offered the excuse that the jet was chartered. He said someone had paid for them to visit Si Sa Ket from Bangkok.
Nopparat told the press that sunglasses and expensive bags would prompt much criticism given that Buddhist monks are supposed to turn away from consumerism and give up their worldly goods.
Virood Chaipanna, director of Si Sa Ket's Office of Buddhism, said that he knew the monks but at the moment they were not at the temple. Other monks told Vrood that they had gone to France.