CityNews – A vigorous 10-day manhunt has finally come to an end when police caught up with a man suspected of the rape and murder of a 6-year-old girl, in Nong Khai near the Vientiane border of Laos.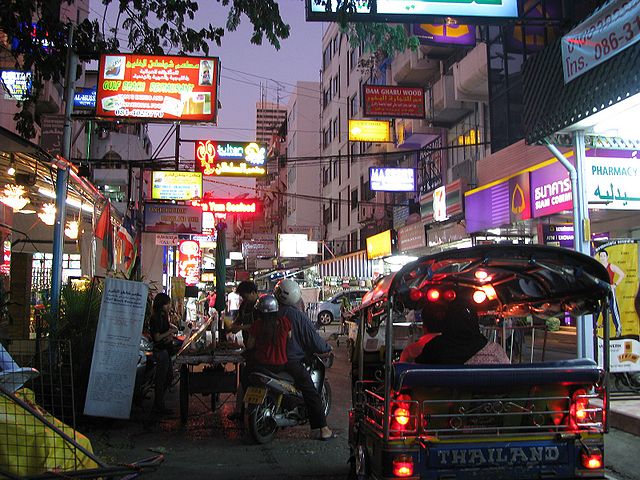 A soi off Sukhumvit Road in Bangkok.
The Khon Kaen man, only known as Nui (32) is a formerly convicted child abductor, who previously spent 3 years and eight months in jail for kidnapping a child. He was released in August last year, and then worked as a labourer for a music band.
The band was the same one that happened to perform at a Thai country music concert (known as a look thoong) in Sukhumvit Road soi 105 in Bangkok on 6th December. A father, Mr. Sayan Petchdon, and daughter were at the concert, where the girl became tired at around 10:20 p.m. This is when her father took her to his pick-up truck parked outside the venue, and stayed with her for ten minutes until she fell asleep, at which point he returned to the concert.
Later, Nui confessed to police that he had drunk a bottle of Thai rice whisky (Lao Khao) and four cans of beer before wandering past the concert's parking lot. It was there he spotted the sleeping girl alone in the truck and woke her up to offer to buy her candy.
Nui told the girl to go with him, and led her to a soi across the nearby Bearing BTS station, where he raped and strangled her. He told police he thought she was only passed out, and not dead, when he left her.
The young girl's disappearance grabbed the public's attention after countless pictures of her were shared on Facebook to spread the word about the case. CCTV footage from a 7/11 store nearby shows her being led by a man, later identified as Nui, and security footage at the Bearing BTS station also showed the same scene. This is what alerted police to the possibility of Nui being the perpetrator, and the 10-day hunt ensued.
A witness in the Thabo district of Nong Khai recognised the suspect from the media, who was believed to be following his band to a show, and was arrested by local police.