CityNews – Thailand's Nong Khai Province in collaboration with Lao PDR's Vientiane Province and Australia are jointly organising a grand celebration to commemorate the 20th anniversary of the first Thai-Lao Friendship Bridge from 4-8 April, 2014, at Hat Chom Manee, Nong Khai.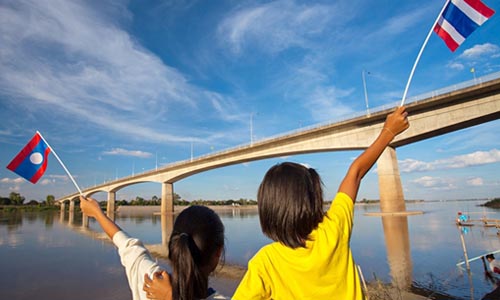 Mr. Thawatchai Arunyik, Governor of TAT said, "The Thai-Lao Friendship Bridge at Nong Khai is the first major bridge across the lower Mekong River. The Bridge symbolises the long-term friendship and relationship between Thailand and Lao PDR., as well as Australia, which lent its support to the bridge's construction.
"Since the opening of the Bridge, Thailand and Lao PDR have witnessed closer ties in terms of economy, trade, tourism as well as culture. The Bridge's 20th anniversary celebration is organised to mark the strong relations between Thailand, Lao PDR and Australia as well as other Mekong countries."
The grand celebration will take place on 5th April, 2014, with highlighted activities being the grand opening ceremony of the 20th Anniversary Celebration of the Thai-Lao Friendship Bridge and spectacular light and sound presentation, fireworks display, water curtain performance, as well as cultural shows from three countries – Thailand, Lao PDR and Australia.
In addition, there will be two other opening ceremonies to mark the Thai-Lao relations, including a photo exhibition on Nong Khai – Vientiane 100 Years of Relations and the opening of Rukkachart Park of the 60th Year of Thai-Lao Diplomatic Relations.
The grand celebration day will be fun-filled with mini music concerts by famous Thai singers – Songsit Rungnoppakhunsri and Viyada Komarakul Na Nakhon.
On 6th April, 2014, there will be special events to promote the tourism of Thailand and Lao PDR, including cycling over the Thai-Lao Friendship Bridge, a golf tournament, Nong Khai dance carnival performances and contests to get cash prizes worth 100,000 Baht. A mini concert from famous singers will also be added to the fun.
Throughout the five-day event, there will be trade fairs of products from Thailand, Lao PDR, Australia, China and Vietnam at the ceremonial park in front of Nong Khai's old City Hall building.