CityNews – On Monday, 3rd March, two Thai army rangers came forward in Narathiwat Province, which borders Malaysia to the south, admitting to the murder of three young brothers as part of the ongoing, decade-long insurgency in Thailand's Muslim-majority southern provinces.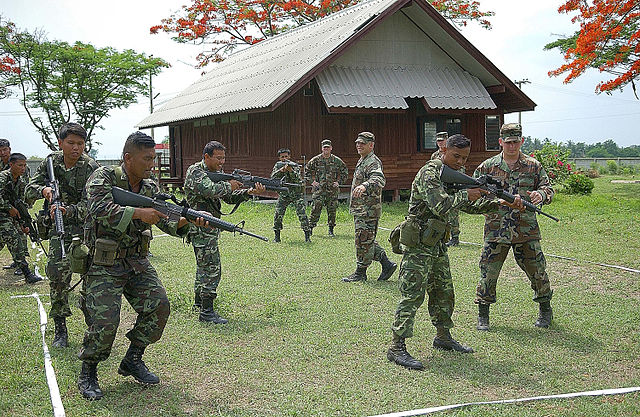 Thai soldiers.
The three boys were gunned down in broad daylight sometime in February, while walking home from a mosque with their pregnant mother, who was also shot but survived the attack. The brothers, aged 3, 5 and 9, were apparently killed as revenge for the murder of one of the Thai ranger's brother and sister-in-law in August last year.
The ranger, Maming Bin Mama (21), stated that the father of the three young boys was the man who had murdered his family members, and when the father was released due to insufficient evidence, the ranger then attempted to kill the father in vengeance. He stressed that was trying to kill the father, who was also present, but hit the boys and mother instead.
Although the two rangers remain in custody, a third suspect is still at large. The rebels have blamed the Thai authorities for the children's murders, which has led to several Thais being murdered recently as revenge, including two women, a monk, and a 9-year-old boy. The women's bodies were set alight, and authorities found notes left at the scene which said the women were murdered as punishment for the murder of the three young boys.
The Thai government has failed to comment on or participate in peace negotiations between the two sides while it is preoccupied with the political crisis in Bangkok.