CityNews — On Tuesday, 22nd April, the body of a 16-year-old Laotian girl was found wrapped up in a mosquito net and hidden in a septic tank behind an auto repair shop in Lampang.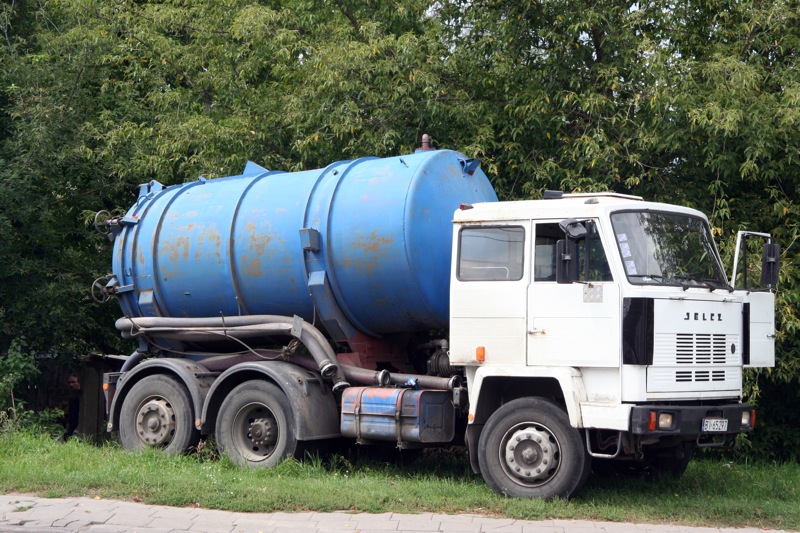 A septic tank being transported on a truck.
The Lampang Police department received a call about a body found in a septic tank behind the Or Danaiyont auto repair shop in Tambon Chompoo, Amphur Muang, Lampang. The Lampang Police Department, crime scene investigation unit, medical examiner and Amarintra Rescue unit arrived at the shop around 5 p.m. They found the body of a Laotian girl known only by her nickname, Nui. She was wrapped in a mosquito net and the medical examiner said she had been dead for at least a week.
Danai Kiattipituck (60), the shop owner, told reporters that he thought his septic tank was suspiciously full and called maintenance workers in to look at it, which was when they discovered Nui's body. Nui and her sister, Sorn, started working at the shop at the same time as Sorn's Thai boyfriend, Top, about a month prior to the murder. On 12th April, Top (first and last name unknown), took leave off work to visit his hometown in Phayao, and told Danai that Nui had been missing since the night before. Top also asked for 2,000 baht in advance pay. He returned the next day saying that he still hadn't heard from Nui, and then he himself disappeared.
Pol. Col. Thanakorn Khumwong, Lampang PD Commander, told reporters that the police found blood stains in the victim's bedroom. The officials are looking for the suspect and are somewhat suspicious of the shop owner's story. They plan to interview the victim's sister, her boyfriend, and other witnesses who could prove useful to the case. The investigators think there was a fight that led to second degree murder which resulted in Nui's body being hidden in the septic tank.
For more photos and story in Thai, visit the DailyNews Regional.