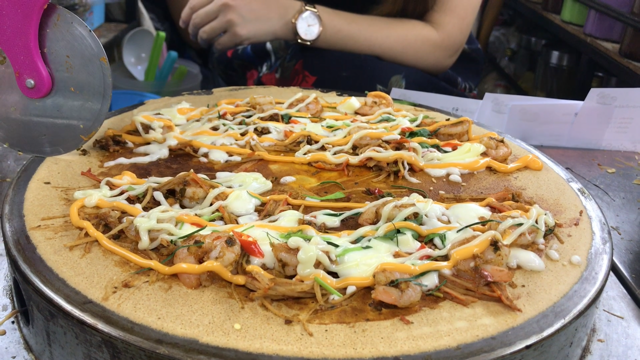 Every day there are long queues in front of the Bangkok Bank, Warorot Branch…and no, they are not waiting in line for the cash machine.
A jaunty yellow VW food truck has opened up, serving exotic, and previously (surely) unheard of, incarnations of the classic French crepe – Chiang Mai style.
The top hit is the seafood mixed tom yum crepe, which, since we haven't tried it ourselves, we would love to hear your thoughts on.
Spread like wildfire on social media, this creperie which is rather inelegantly called Crepe 100 fillings by Crepe Folk Van, is the current talk of the cuisine town.w
"I had this great van and wanted to do something with it," said Chalermwat Duangkaew, 35, who said that he and his girlfriend went around Chiang Mai for four months looking for ideas and inspiration. Inspiration finally came, as did the tom yum mixed seafood crepe, the pad krapao crepe, the brownie crepe and all sorts of other exotic and imaginative offerings.
For only 39 baht you can choose your own fillings, though some ingredients such as cheese will cost extra. The poshest crepe which is their signature tom yum. Costs 99 baht. Stop by daily between 5pm and midnight.