CityNews – On Wednesday, April 16th, at 09:30 a.m. Pol. Lt. Col. Chao Decha, the Saraphee Police Inspector, received a report of a fire at a car showroom belonging to Subaru Sansai Co. Ltd. on Chiang Mai–San Kamphaeng Road in Saraphee. The firefighters took 20 minutes to suppress the fire and ventilate the smoke from the building.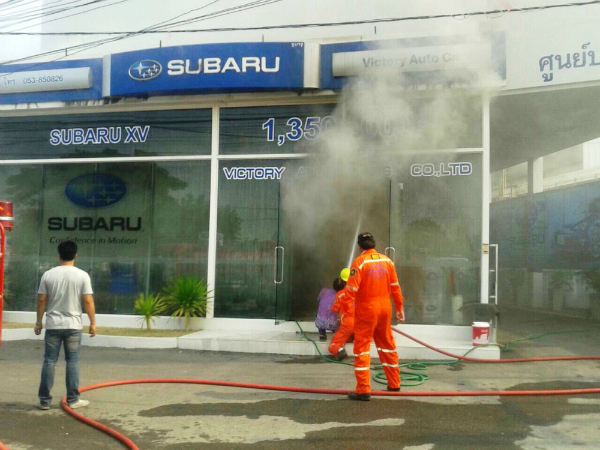 Tharawuth Wadeesirisak, the Subaru Sansai Managing Director, told reporters that his staff were cleaning the showroom when they heard an explosion followed by a strong smell of smoke. Before the fire caught onto the ceiling, the workers moved the vehicles away from the showroom.
Preliminary investigation shows the ceiling and the equipment in the office as well as 2 million baht's worth of vehicles were damaged by the fire. The initial estimate for the total damage is more than three million baht. The cause of fire is thought to have been an electrical short circuit. The fire marshals will thoroughly investigate the scene.
For photos and story in Thai, visit the Manager and the DailyNews Regional.