CityNews – There have been several incidents of young female expats and tourists saying they have been groped by strangers around the moat area between Moon Muang 6 and Thapae Gate within the last week.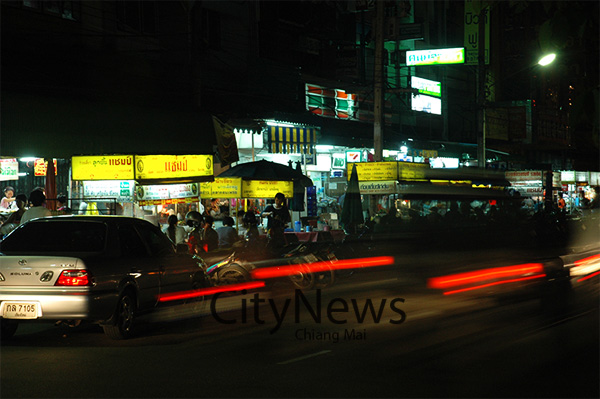 At either side of Sompet market (above) the street and soi can be quite dark
Sarah (25), a Canadian volunteer in Chiang Mai, told CityNews:
"A sharp twisting pain suddenly shot through the right side of my chest. Holding my breath for a moment, I retracted, then staggered a bit and turned around to get a better look at the man who was passing. He was already too far away for me to retaliate."
The girl said it happened so fast she didn't know what to do. She explained how frustrated and annoyed it made her feel:
"I wanted to respond with a blunt kick to him, or a punch in the face!"
Another girl explained that she was groped by two males in their late 20's or 30's (appearing to be Thai). She said they passed her along the moat one evening last week at around 8 p.m. and that one of them reached out and grabbed her breast then briskly took off.
"It was early evening after dinner, along a busy street and I wasn't even wearing anything the slightest bit provocative. Shocking. It makes me wonder what they'd do after bar hours," the girl, who wanted to remain nameless, told CityNews.
CityNews became aware of these incidences after an intern presently working in the office was also groped in that area of Chiang Mai this week.
If walking alone at night it's a good idea to be aware of your surroundings, and stick to lamp-lit streets. If anyone else has experienced this you can contact CityNews, or better contact the Chiang Mai police.