CityNews – The former monk Phra Yantra Amaro Bikkhu spent the last two decades living in the United States, and has recently been spotted in the Southern province of Nakhon Si Thammarat, where he is staying at his sister's house with a small group of old followers.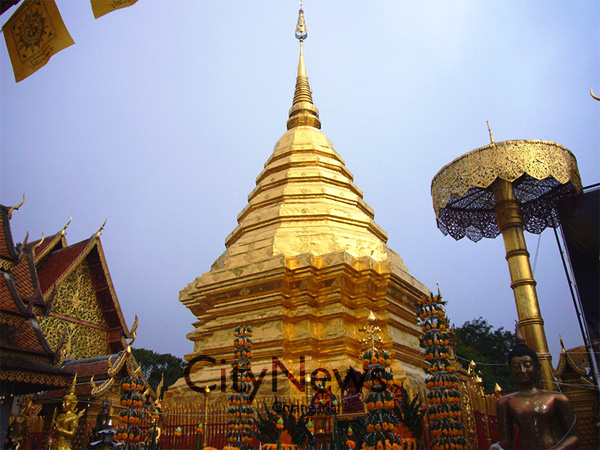 Phra Yantra, whose birth name is Winai La-ongsuwan, was a priest for a number of years before he was officially ordained as a Buddhist monk in 1974, and went on to attract a large following in the 80's. Despite taking a strict vow of celibacy, he fathered a child with one of his followers – a severe violation of monastic laws. He was also captured multiple times on video out and about after dark, and was charged with defamation against the late Supreme Patriarch, who was overseeing the Supreme Sangha Council which investigated Winai's sexual scandal.
When Winai was found guilty and expelled from Buddhist monkhood, he refused to accept the resolution and acted as if he were still a monk, except changing his robe's colours to a deep purple. He then came into possession of an allegedly forged U.S. passport and was granted asylum in the U.S., where he stayed for twenty years being taken care of by his young daughter.
The statute of limitations on his legal charges have expired, meaning the 60-year-old Winai, who cannot be officially ordained again in his lifetime, can still reside in the country. He now sports a long white beard and ponytail, and has been seen wearing a dark yellow wraparound shawl similar to that of a Buddhist monk. However, the National Office of Buddhism stated that they could not charge him for wearing inappropriate attire.
Winai has said that he plans to settle in Thailand permanently once the political situation has calmed down. He has been enjoying his welcome back to the country, with many visitors, including monks and nuns from other villages and provinces, paying their respects to Winai. He has been receiving food, flower garlands, and money, with people saying they still respect and follow him because he lives by the principles of Buddhism.